The American publication Air Force Times reports that this year the United States will abandon the operation of multi-purpose drones MQ-1 Predator. By the summer of the 2018, all MQ-1 Predators will be replaced with more functional UAV variants - the MQ-9 Reaper. At the same time, the Reaper itself can hardly be called a "new" drone. Its operation in the US Air Force lasts for more than 10 years. This is despite the fact that the first flight of the MQ-9 Reaper made back in 2001 year.
Some characteristics of the "senior" American drone
aviation
MQ-1 Predator looks as follows: wing span more than 14,8 m, length - 8,23 ​​m, maximum take-off weight - 1,02 t, maximum speed - 217 km / h, engine power Rotax 914 UL - 105 hp ., practical ceiling - 8 thousand meters, flight range - up to 750 km, maximum long flight - 39 hours.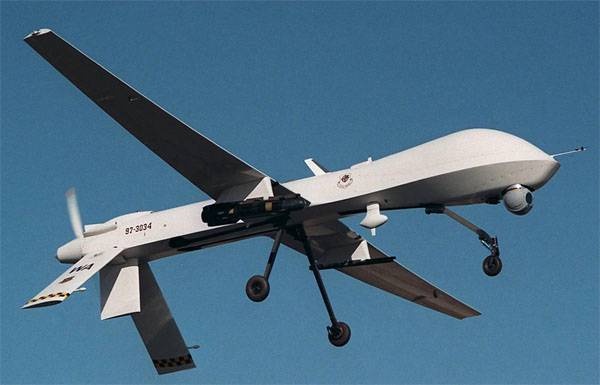 Some of the characteristics of the General Atomics Aeronautical Systems MQ-9 Reaper are: wingspan - 20 m, length - 11 m, maximum take-off weight - 4,76 t, maximum speed - about 400 km / h, Honeywell TP331-10 engine power about 900 hp . Range - about 5 thousand. Km, practical ceiling - 14,4 km. It has six suspension points - including for AGM-114 Hellfire missiles.
From 2011, the USAF lost 4 to such UAVs, including 2016 in Syria. Then the MQ-9 Reaper was shot down by an aircraft of his own coalition.
UAV MQ-9 Reaper are in service with not only the United States, but also Britain, Turkey, Italy and France.