The first medium-sized military transport aircraft Lockheed Martin C-123J-130 Super Hercules arrived at the BA30 airbase of the French Air Force in Orleans from the USA, reports
bmpd
.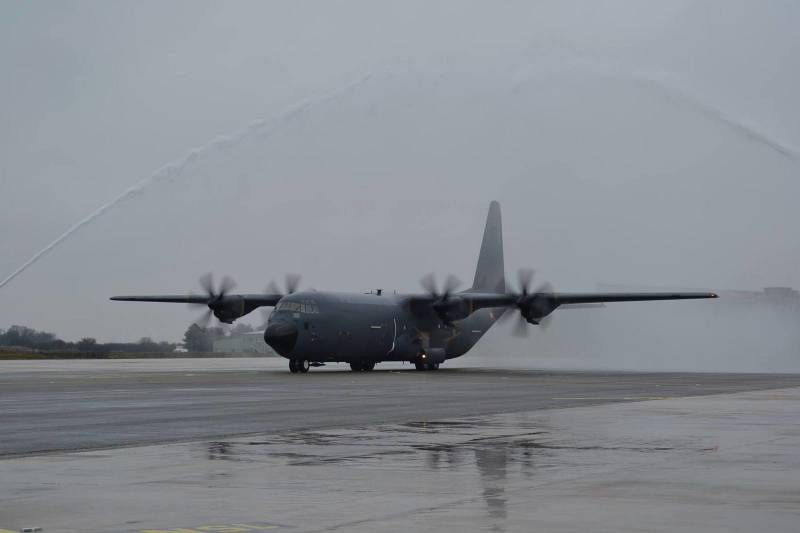 Arrival at aviation France's Air Force Base VA123 in Orleans, France's first Lockheed Martin C-130J-30 Super Hercules military transport aircraft (serial number 5836, French tail number 61-PO). 22.12.2017/XNUMX/XNUMX
The aircraft was built at Lockheed Martin's facility in Marietta, GA, its rollout took place on 20 on October 2017, and the first flight was on 22 on November.
The contract for the purchase of two military transport aircraft C-130J-30 Super Hercules and two transport refueling aircraft KS-130J on their basis was signed in January 2016. The estimated transaction value is $ 650 million, of which 355 million is the cost of the self-defense systems installed on the aircraft (including AN / ALE-47, AN / AAR-47A (V) 2 and AN / ALR-56M systems), navigation systems, systems communications, as well as spare parts, technical support, personnel training, etc.
It is reported that "the purchase of the C-130J aircraft for the French Air Force became part of the decision of then-French President Francois Hollande announced on 29 on April 2015 to allocate additional 3,8 billion euros to the French defense during 2016-2019, including 1,5 billion euros on new purchases weapons and equipment.
The second C-130J-30 aircraft will be delivered in 2018 year. The remaining pair in the version of the CN-130J tanker should arrive in France in the 2019 year.