Russian sources revealed the designation of a new high-precision cruise missile for the Far
aviation
. Ammunition received an X-50 index. The deployment of a new missile is planned as part of the state arms program for 2018-2025.
The product developed by Dubna ICD Raduga is supposedly a subsonic cruise missile using the strategic X-101 guidance system, but smaller in size and flight range. Designed for placement in the internal compartments of the Tu-22М3, Tu-95 and Tu-160 rocket carriers, the projectile is six meters long, its curb weight is on the order of 1600 kilograms. Equipped with a turbofan engine, the rocket develops a cruising speed of the order of 700 km / h, a military blog reported
BMPD
citing Jane's Missiles & Rockets magazine.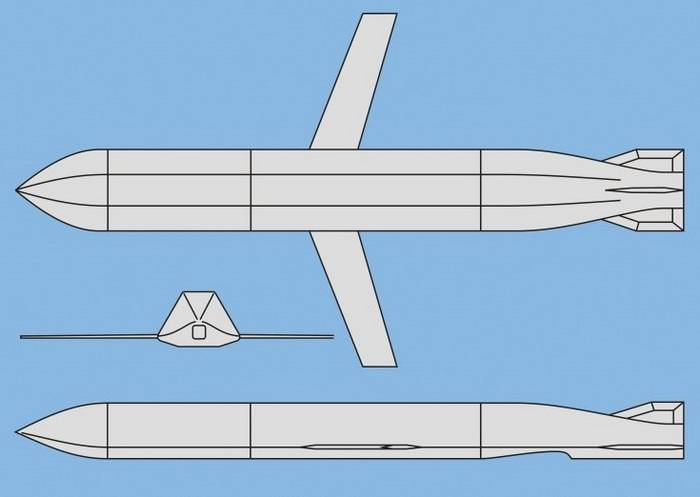 The X-50 fuselage has a flattened cross-section and side faces. This form reduces the radar visibility of the rocket and is optimal for placement in the turret launchers Tu-95 and Tu-160. The strategic X-101, due to the large length, does not fit into the weapons compartment of the Tu-95 and can only be used with pylons under the wings.
The navigation system of the new rocket is a combination: inertial at the march segment, when approaching the target, the digital optical-optical correlation system "Reflections" is activated. In addition to being inconspicuous, the X-50 uses low-altitude flight trajectory and an airborne defense complex consisting of an active jamming station and towed traps to overcome air defense systems. The warhead can be of two types: penetrating for protected purposes or a cassette - to destroy, for example, airfields.
After upgrading, long-range missile carriers Tu-22М3 will be able to carry six X-50 in the internal compartment and two missiles on the external sling. The Tu-160 is able to take on 12 missiles, and the Tu-95 - 14, including six under the wings.
The military name of another development, designed to work in a strong air defense, has not yet been disclosed. It is being created within the framework of the Hypersonic Guided Missile (GZUR) program by the Tactical Missiles Corporation and the Raduga ICD. The projectile has similar to X-50 weight and size characteristics and range. The speed of the GZUR in flight along the altitude profile is 6М. The projectile has an active-passive homing head and is intended mainly for hitting ships.
By 2020, it is assumed that the GZUR will be mass-produced at a rate of "up to 50 products per year," the newspaper writes. This suggests that the rocket is currently being tested.