According to the American company Bell Helicopter (part of Textron Corporation), the 18 of December 2017 of the year in Amarillo (Texas) made the first flight of the first prototype of the military convertilana V-280 Valor (so-called Air Vehicle Demonstrator - AVCD, registration number N280BH).
The V-280 tiltrotor is being developed jointly by Bell Helicopter and Lockheed Martin Corporation as a competitive bid for the US Army tender on the program for creating promising helicopters for the Army
aviation
Future Vertical Lift (FVL), blog post
bmpd
.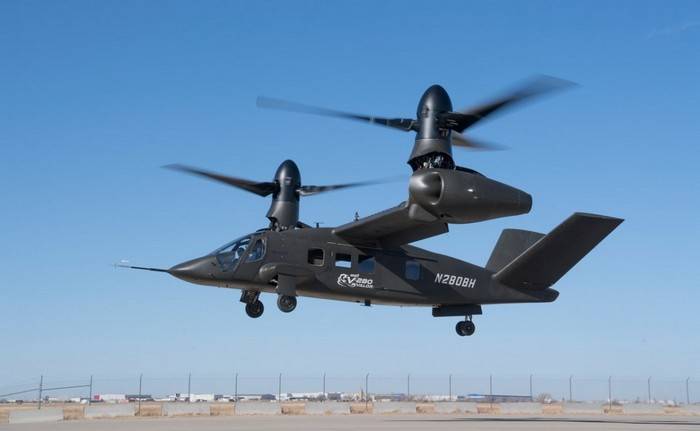 The creation of the V-280 is carried out by the so-called Team Valor alliance of Bell Helicopter, Lockheed Martin, General Electric, Moog, IAI, TRU Simulation & Training, Astronics, Eaton, GKN Aerospace, Lord, Meggitt and Spirit AeroSystems. The V-280 tiltrotor with a crew of four is supposed to carry 14 military personnel. With a maximum take-off weight of about 30 thousand pounds (13620 kg; unlikely to be sustained), the device should have a maximum payload of up to 10 thousand pounds (4540 kg). The machine is almost entirely made of composite materials and equipped with two turboshaft engines. The difference between the V-280 and the previous types of convertiplanes (in particular, the V-22 Ospey) is the rotation not completely of nacelles with engines, but only of the propellers, due to the hinge shafts.
Prototypes of the V-280 will be equipped with engines of the General Electric T64 series, however serial vehicles must be equipped with promising turboshaft engines that the US Army will choose according to the FATE program. The cruising speed of the car should be 280 knots (520 km / h, hence the index "280"), the maximum - more than 300 knots (560 km / h). The ferry range is declared in 3900 km, the range (depending on the load) is from 930 to 1480 km.
Now the US Army considers it possible to start entering JMR-Medium vehicles in 2035, although Bell claims that it can bring V-280 to the start of serial production seven to ten years earlier.