The Soviet light amphibious tank PT-76 is currently actively used by the armed forces of Vietnam. Moreover, the military engineers of this country modernized the old Soviet tank. Judging by the video frames that appeared in December 2017, they decided to improve the capabilities
tank
on firing at night and improve accuracy, equipping it with a modern sight.
The sight is mounted above the 76-mm tool. Information from him comes to a special monitor mounted in the fighting compartment.
At present, the modernized tank, named in the plot of Vietnamese television "PT-16", is being tested at the site.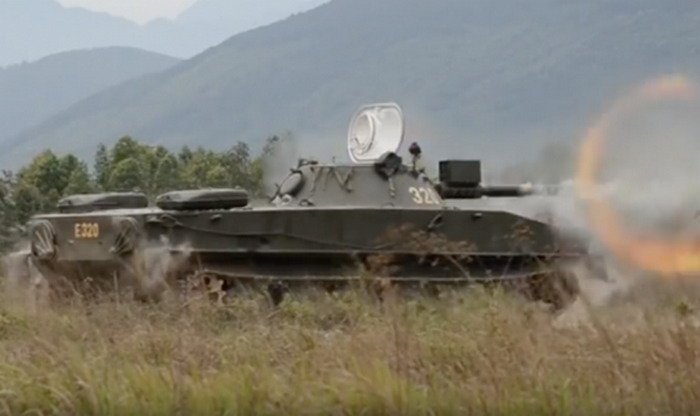 The legendary "peteshka" or, as it was also called in the troops "a boat with a gun", was adopted by the Soviet army 66 years ago. Vietnam began receiving this technique in 1960.
Beginning with the 1968, these tanks were actively used in battles against the American troops and the army of southern Vietnam. PT-76 have proven to be simple and reliable machines with extremely high traffic. As it turned out, they were perfectly capable of hitting the most massive anti-tank
weapons
in the then theater of war - disposable RPG M72.
It was reported that the Vietnamese People's Army still has a relatively large fleet of light amphibious tanks for vehicles of this class. In total, in the land forces and marines there are about 300 such combat vehicles.
Of course, according to all characteristics, the PT-76 has long been hopelessly outdated. Specialists from various countries, including Russia, have repeatedly created various options for modernization: from relatively budgetary to so radical that only the body remained from the initial version. These proposals were oriented, among other things, to Vietnam. However, the command of the VNA for a long time considered the development of the air force, navy and air defense as priority areas. Ground forces, in particular the purchase of armored vehicles, in the opinion of many military experts, were funded on a residual basis. Therefore, it is not surprising that the armored vehicles of this country are overwhelmingly the samples of 50-60. And there is not only the Soviet, but even the captured American, like the M113 armored personnel carriers.
Apparently, it has now been decided to take up the armament of the ground forces. The most significant and qualitative breakthrough was the acquisition of Russian main tanks T-90С. Of course, no one will immediately refuse obsolete equipment. It will be modernized and will continue to be maintained in combat readiness. New sights for the PT-76 - an example of ongoing work in this direction, reports RG-Force