Gazeta.ru:
Judging by your answers, are you incorrectly informed about the state of the economy? What will happen to taxes in Russia? Will they go up after the end of the election period?
Putin:
I do not agree that someone incorrectly informs about taxes. We agreed that the actual taxes until the end of 2018, will not grow. In any case, the decision will be made with the involvement of a wide range of experts. What you need to pay attention today - taxes that are a heavy burden on citizens. All this is due to the imperfection of the tax system. Maybe someone will swear at me from among liberal opponents, but I think that citizens should be exempt from this kind of taxes. For example, to exempt business representatives from paying such debts: they didn't get it, and taxes continue to be charged. We need to make sure that people are not afraid to contact the tax office. But tax discipline is also needed. We wind up taxes on the so-called "conditional income" - about three million people were thus debtors. These debts need to be written off.
There was a question about why the regions have to beg for subsidies from the federal center from their own funds paid to the federal budget.
The President noted that the country has recently been engaged in the redistribution of funds from donor regions, without undermining the regions' desire to develop their economy. At the same time, Vladimir Putin identified the problem of lending to Russian regions in commercial banks, which use the fact that the state in any case will pay the debt issued at any percentage.
A question from the Associated Press referred to the observance of sanctions against North Korea and the "need" for Russia to help resolve the North Korean crisis.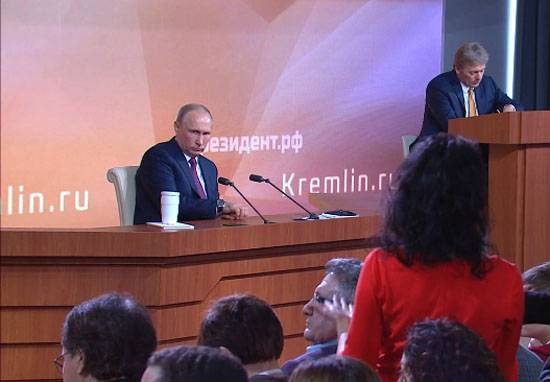 Putin:
Interesting you guys. And you did not pay attention to the fact that your congressmen are dressed in beautiful suits, shirts, they are smart. They put us, North Korea and Iran on a par, while declaring that we should help them solve the North Korean problem. Are you generally normal?
As for North Korea, our position is known: we do not recognize the nuclear status of North Korea, and everything that is happening there is considered counterproductive. You remember that in 2010, according to S. Korea, we already agreed, Pyongyang refused to develop nuclear
weapons
. And then the United States took and left all contracts. North Korea again began its development. Why did you do it? Now North Korea has missiles, apparently reaching for the United States. This is an extremely dangerous thing. If the US starts striking, that means that you know exactly what objects will be struck. Not. At the same time, it will be enough for North Korea to deliver one blow ... Let's hope that common sense will prevail.