The Canadian parliament discussed further strategy for Ukraine. In the defense committee of the Parliament, the Maple Leaf countries called for the need to provide Ukraine with a lethal
weapons
. It was noted that such a step would help Ukraine "as a state that was and remains friendly to Canada." Apparently, the friendliness is considered exactly until the moment when Ukraine does not need to make payments on previously issued loans.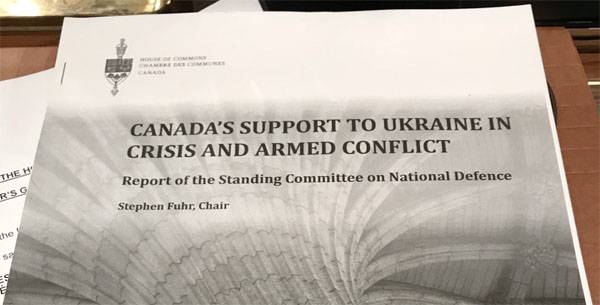 The Canadian Parliament adopted a document that supports the entry into the territory of Donbass peacekeeping mission. In a document bearing
The title "Canadian support for Ukraine in times of crisis and armed conflict" states that the UN peacekeeping mission should be carried out throughout the territory of Donbass - right up to the borders of the Russian Federation.
This is not all the decisions that the Canadian Parliament Committee made. The document notes that for the comprehensive support of Ukraine, Ottawa may introduce a visa-free regime for Ukrainian citizens. At the same time, Canadian experts note that in this case, additional consultations with Washington will have to be held, since the Canadian-American border is "transparent, and therefore difficult legal issues may arise in the case of transit of Ukrainian citizens."
The document should now be considered at the general parliamentary meeting.