Information about the temporary cessation of work on the creation of Russian military railway complexes, has caused a strong reaction on the Internet. Meanwhile, similar developments were also conducted in the United States, but it was decided to abandon them.
According to Rossiyskaya Gazeta, referring to NVO, the Pentagon planned to launch its first atomic train on American railways in 1963. It was assumed that over time, such trains would be in service from 50 to 150 intercontinental ballistic missiles of the Minuteman family ("Militiaman").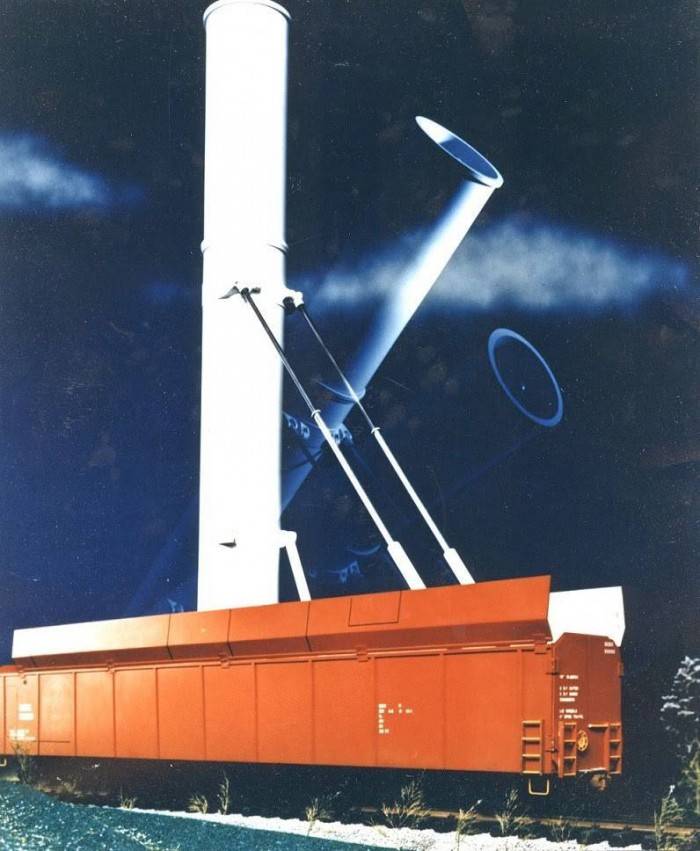 In general, the idea of ​​the car - launcher with ICBM "Minuteman" I and MX was similar to that used by Soviet developers. Illustration from www.fas.org
The US military believed that using rockets in trains would make it
weapon
less vulnerable. It was reported that the enemy would need to use more than 10000 missiles to neutralize the armament of rocket trains.
In the United States, tests were carried out under the Operation Big Star code (Operation Big Star), in which four experimental rocket train prototype trains participated. And in 1960, a full-size BZHRK mockup appeared. It is known that a team armed with three missiles must At least 10 cars entered, and a train with five missiles required 15 cars.
But in 1961, John F. Kennedy preferred to replace expensive rocket trains, which had already cost 100 million dollars to US taxpayers, with high-security mine launchers. In addition to the high cost of storing and maintaining missiles on trains, Americans were also embarrassed by the long time required to prepare them for launch.
However, in the 1980-ies, the United States made a new attempt to revive the project of the rocket train, armed with more powerful Peacekeeper rockets ("Peacemaker"). But this development could not be realized.