Holding "Helicopters of Russia" on Wednesday signed firm contracts with the State Transport Leasing Company (GTLK) for the supply of a medical helicopter 31, reports
bmpd
.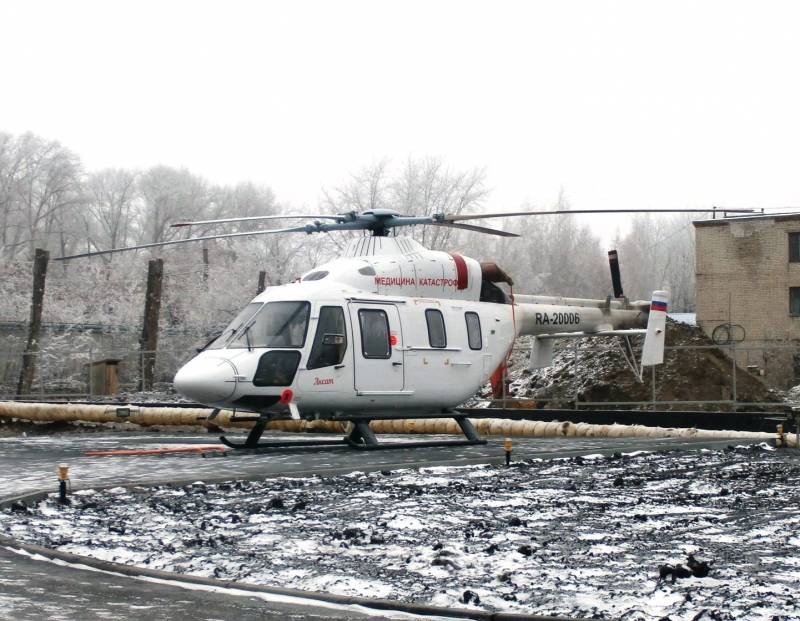 The Ansat helicopter operated by ZAO Russian Helicopter Systems (RVS) in the Kurgan Region has a medical module.
Machines must be delivered to the lessor in 2018 year.
According to the contract, the STLC will receive 12 light multipurpose Ansat helicopters, 13 Mi-8AMT and 6 Mi-8MTV-1 equipped with medical modules. Production of these machines was launched before the signing of solid contracts.
It is reported that helicopters will be involved in the implementation of the sanitary
aviation
in remote regions of the Russian Federation.
Separately, GTLK reported that "the lessor today has already signed agreements of intent for the supply of helicopters with several operators." We are talking about such airlines as Russian Helicopter Systems (the agreement applies to six Ansat), SKOL (the agreement provides for the transfer of three Ansat helicopters) and AeroGeo (one Mi-8 helicopter).
The term of leasing of all aircraft will be 120 months.
Earlier in the framework of this program, the GTLK has already ordered the Mi-29 and Ansat helicopters from the Russian Helicopters 8. Machines must be handed over to customers by the end of the year.