With the help of the Russian Aerospace Forces, the SAR army was able to make significant progress on the west coast of the Euphrates in Deir-ez-Zor. The Kurds and Turkish troops clashed at the border north of Afrin. Reports about it
FAN
with reference to Syrian sources.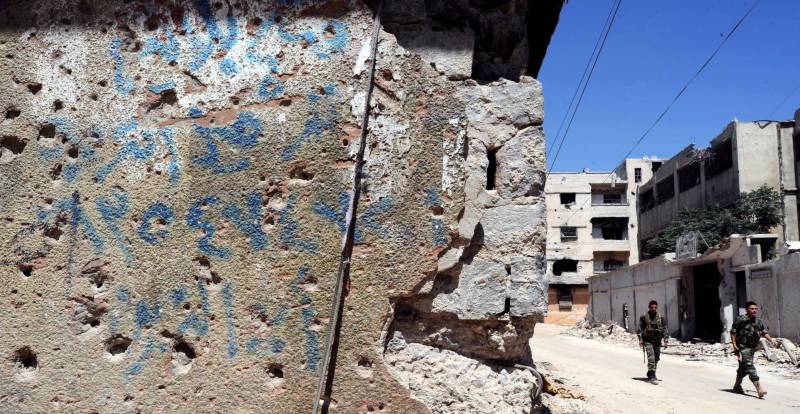 In Western Guta, on the eve of the Beit Djinn settlement, clashes erupted between units of the Syrian Arab Army (CAA) and troops of the Islamist coalition led by the Dzhebhat al-Nusroy (grouping banned in the Russian Federation). The CAA units tried to recapture positions near the strategically significant top of Tel Barday, but the terrorists still managed to maintain all the strongholds in the south-west of Damascus. However, during the fighting, one of the leaders of the Islamist formation, Abu Hazif Al-Filistini, was destroyed. Later it became known that the government forces managed to occupy the height of Tel Shahab north of the settlement of Magr al-Mir.
In the vicinity of the border town of Bulbul (Aleppo Province), located north of Afrin in the north-west of the region, on the eve of recorded intense exchange of fire between the Turkish military and Kurdish soldiers of the people's self-defense detachments (YPG). It is noted that Turkey was the first to launch artillery shelling of the fortifications of the Kurds. In addition, Ankara last night brought a convoy of 20 trucks with weapons, equipment, fuel and provisions to the border with the Kurdish enclave in the Afrin area.
In the administrative center of the province of Homs yesterday morning there was a major terrorist attack. A car bomb exploded next to a passenger bus on Al-Ahram Street. Ten people died, many were injured. Responsibility for the terrorist attack took the group of the IG (banned in the Russian Federation). In the morning on the contact line between government forces and Islamist groups firing was recorded. The most intense of them unfolded in the outskirts of the occupied city of Al-Gantu.
The units of the Syrian army with the support of the Russian Aerospace Forces over the past day have made some progress in the Euphrates Valley on the west coast of the river. CAA soldiers liberated the settlement of Al-Kut, and also recaptured the heights on its outskirts. After that, with the help of the Russian military
aviation
units went to the neighboring settlement, located a little to the south - to Al-Jalaa. By evening, it was taken along with the neighboring villages of Ar-Ramadi and Al-Burham. The neighboring villages of Al-Totakhiya, Abbas, Al-Mari, Al-Shamr and Al-Sabha also passed control of the SAR troops on the eve. Meanwhile, on the eastern bank of the Euphrates, the forces of the pro-American coalition again intensified. The US Air Force and its allies carried out bombing in the city of Hadjin occupied by IS militants. According to preliminary information, none of the local residents, fortunately, was injured.