On Tuesday, six long-range Tu-22М3 Russian Aerospace Force bombers struck targets of the Islamic State terrorist group (IG, banned in Russia) in the Syrian province of Deir ez-Zor, reports
TASS
Post Ministry of Defense of Russia.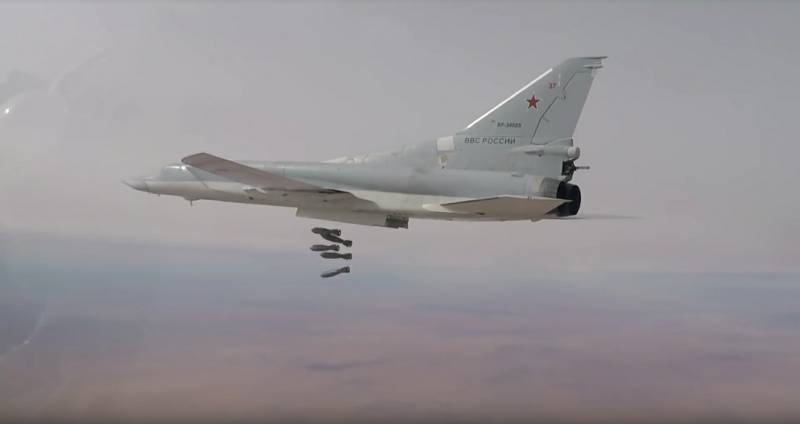 Today, six Russian Tu-22М3 long-range bombers, having taken off from an airfield in the Russian Federation, struck a group attack on weapons and ammunition depots, strongholds and a cluster of IG terrorists near the village of Sayal, Deir ez-Zor province. All assigned targets destroyed,
told the press service of the department.
Reported that the blow of the Russian
aviation
"Allowed to break the fierce resistance of the terrorists in the area of ​​the village of Es Sayal, providing a significant advance of the Syrian government forces along the front."
The ministry noted that the aviation of the western coalition inflicted fewer strikes on militants in Syria in the past month than did the Russian Aerospace Forces in a day.
The total number of coalition strikes in Syria for the month does not exceed the daily rate of strikes on the IG of the aviation of the Russian aerospace forces,
stated in the press service.
According to the ministry, "during the last month, the daily combat work of the international coalition for terrorists in the east of Syria did not exceed three to five strikes against single targets far from the strongholds of the militants." During the same period, only to support the attacking militias of the local tribes attacking the eastern coast of the Euphrates, "the aviation of the Russian Navy carried out 672 combat sorties and hit more than 1450 targets."
Thus, yesterday's statement by Pentagon spokesman Eric Paeong that the supposedly "most of the territory liberated in Iraq and Syria was freed thanks to the efforts of the global coalition and its partners" is no more than an attempt to pass wishful thinking.
concluded in the Ministry of Defense.