Multifunctional front-line bomber Su-34 is being finalized for new
aviation
weapons of destruction (TSA) and advanced avionics (BREO), the military-industrial complex said on Tuesday.
Now there are special flight tests (SLI) to expand the combat effectiveness of the aircraft
- Said the source agency.
He clarified that earlier, during the first phase of SLI, the Su-34 "had the opportunity to use more advanced TSA and improved avionics, in particular, electronic warfare (EW)."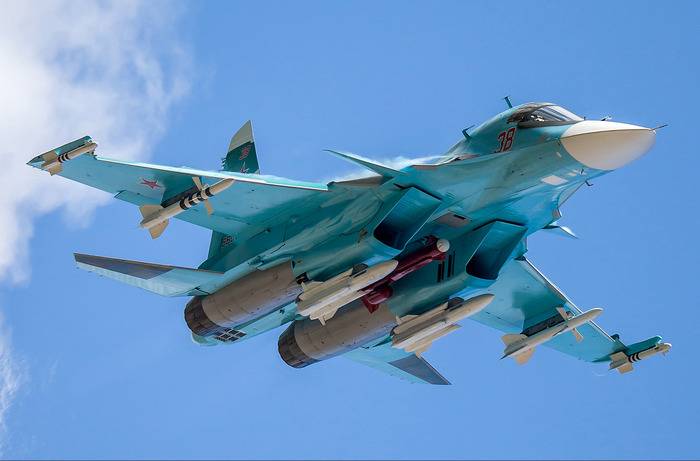 During the current stage, the Su-34 will be tested with both new TSA and some new or modified on-board equipment systems. In particular, - adapted for new means of destruction in order to maximize the combat effectiveness of the aircraft
- Said the source agency.
According to him, "the leadership of the Air and Space Forces (VKS) of Russia highly appreciates the combat work of the Su-34 in Syria, and the experience of the combat use of the aircraft makes it possible to optimize the direction of its improvement."
It is expected that the Su-34 should replace the Su-24 planes operated by the VKS almost in full. In the past few years, the Novosibirsk Aviation Plant has been supplying Sukhoi 16 airplanes with 18-34 per annum. In 2017, VCS will get 16 Su-34
- Said the source agency.
The Su-34 front bomber, developed by the Sukhoi Design Bureau and serially produced at the Novosibirsk Aviation Plant (part of the Sukhoi company), is designed to destroy both ground and water objects of the enemy; it can hit moving targets of even small size. Also, the aircraft has the ability to destroy air targets at any time of the day or night under any meteorological conditions, reports "Interfax-AVN"