The press service of the Central Military District reports that a new class for the training and retraining of Mi-28N pilots has been opened in Chelyabinsk. We are talking about the latest educational complex, thanks to which cadets of the Chelyabinsk branch of the Air Force Center of the Air Force of the Air Force named after N.E. Zhukovsky and Yu.A. Gagarin will be able to get acquainted with the helicopter even before they get into
aviation
parts.
From the message
press service
:
The training class consists of 13 workplaces for students and one for the instructor. The complex allows you to fully explore the design of the helicopter, flight parameters, control, helicopter systems, powerplant and weapons. Also provides for the development of the actions of the crew in case of emergency situations. All helicopter systems and controls are modeled using high-quality three-dimensional computer graphics.
It is reported that one of the first classes in the new class was conducted by the chief navigator of the Russian Air Force (members of the VKS structure), Anatoly Minyaylo.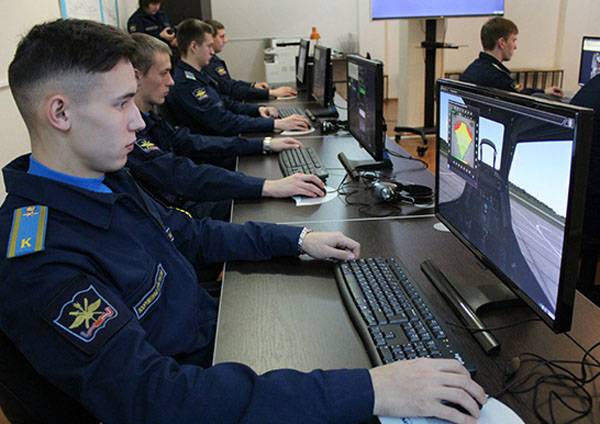 Anatoly Minyaylo while communicating with senior cadets:
I can assure you that navigators are now in great demand in combat regiments. We need first-class specialists who are ready to immediately solve the tasks posed on complex aviation equipment. And it's very good that you can study a helicopter like the Mi-28H while you are at school. By and large, we minimize the time for retraining of the graduate-navigator and get a ready-made specialist.
In the same military university, work is underway to install another newest training complex. This is a complex that allows you to get acquainted with the design and piloting features of the Su-34. Installation of the complex is scheduled to be completed in 2018 year.