New Russian ship project "Karakurt" called "Typhoon" was launched in St. Petersburg 24 November. This is the latest example of the fact that the Russian Navy rely on small and heavily armed ships that can carry a lot of missiles, writes Business Insider.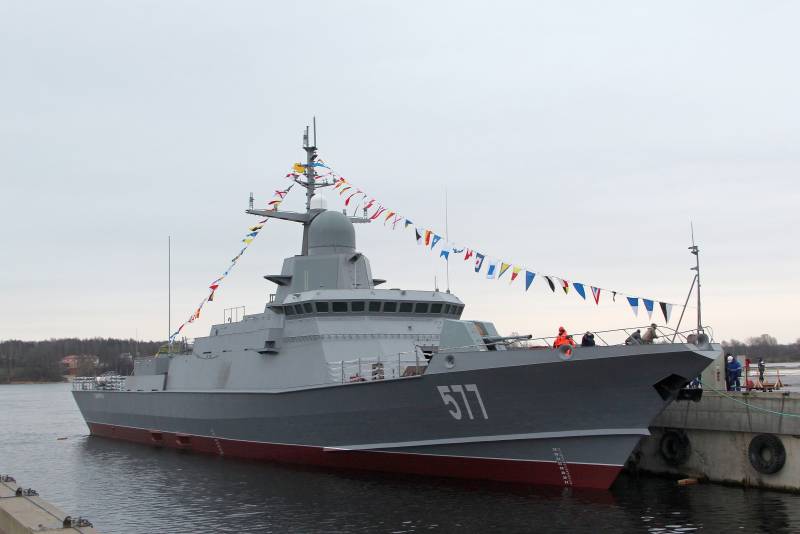 "In total, Russia plans to build 18 ships of this type. They were originally intended to protect the coastal zone, so they are smaller than battleships and destroyers, which are assigned the main place in
fleets
other countries of the world. Moscow has always experienced difficulties in rivalry with its opponents in this regard and therefore decided to rely on small vessels, "- leads the article
InoTV
.
According to the author, "ships of the Karakurt project have a displacement of 800 tons, are able to work on the open sea for 15 days and cover the 2500 distance of nautical miles and have low-visibility technology that will make it difficult for potential opponents to detect them." The ships are also equipped with eight rocket launchers for launching either anti-ship supersonic P-800 "Onyx" missiles, or "Caliber-NK" cruise missiles.
In addition, the ships are equipped with the naval version of the Pantsir-S1 anti-aircraft missile system, which is called the Pantsir-M. The complex is capable of hitting targets at a distance of 20 km, the author adds.
Thus, the Russians created a small ship that is as fast and efficient as a destroyer, but smaller in size,
he writes.
As Michael Kofman, an expert on the Russian armed forces, noted, "Karakurts" have great potential, but they should not be overestimated.
Russia and NATO are in some sense the same when it comes to inflating Russian military potential and inflating threats. Small ships are capable of threatening most of Europe with cruise missiles, but ordinary cruise missiles are not too strong, and in order to match the firepower of a single American destroyer, several small ships will be required.
said Coffman edition.
According to him, despite the stealth technology and improved shipping characteristics, "Karakurt" is less stable compared to other ships, "which makes them ineffective for an attack by land."
Most likely, they are intended for "attacks and firing by volleys at combat groups of ships or enemy carrier strike groups if they approach the Russian shores." At the same time, the ships of the Karakurt project are "an effective platform for deploying anti-ship
weapons
and deterrence of NATO or US forces in the event of a conflict, "the expert concluded.