The attack helicopter Mi-28H "Night Hunter" entered service with the Western Military District, said the head of the district press service Igor Muginov.
As part of the state defense order, the helicopter regiment of the Western Military District (ZVO), stationed in St. Petersburg, received an attack helicopter Mi-28H "Night Hunter", built at the plant, part of the holding "Helicopters of Russia". A new combat vehicle went through all stages of factory tests and was adopted by the regiment's engineering staff.
- said Muginov.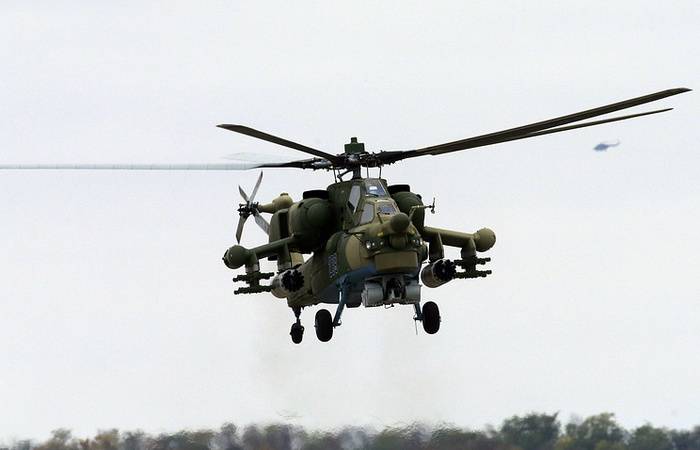 According to him, the crew of the helicopter, which should replenish the ranks of combat vehicles of the airfield in Pushkin, flew from Rostov-on-Don.
R'ертолет РњРё-28Рќ РќРѕС З РЅРѕР№ РѕС ... отник ° ктивного огневого противодействия
tanks
and other armored vehicles, as well as low-speed air targets and enemy manpower. The helicopter is armed with a non-removable mobile gun mount with a 30 mm cannon, an Attack-B air-to-surface missile system, an Air-to-Air class Strelets, and unguided blocks
aviation
missiles (NAR) B-8V20A with an 8 mm S-80 missile.
We remind you that on Thursday, Chairman of the Federation Council Committee on Defense and Security, Viktor Bondarev, who previously held the post of Commander-in-Chief of the Russian Aerospace Force, reported that the Syrian campaign revealed the flaws in the electronics of the Mi-28 helicopter. According to him, according to the results of the participation of this machine in the operation, the helicopters were finalized, nevertheless, the electronics remained "a failure", because of which "the pilot does not see anything, he does not hear anything." Bondarev, in particular, noted that the night vision goggles "pilots call" death to pilots ", because when they are used" when it is cloudless everything is fine, as soon as there is some kind of smoke, the pilot then goes for three days with red eyes, "TASS reports.