December 1 on the territory of the airfield complex "Vostochny" in the city of Ulyanovsk held a solemn ceremony named after the great aircraft designer Oleg Antonov heavy transport aircraft An-124-100 "Ruslan".
The symbolic action was the result of a joint initiative of the command of the military transport
aviation
and the leadership of the UAC transport division. The aircraft went through a stage of deep modernization at the Ulyanovsk Aircraft Building Enterprise Aviastar-SP JSC (part of the UAC transport division).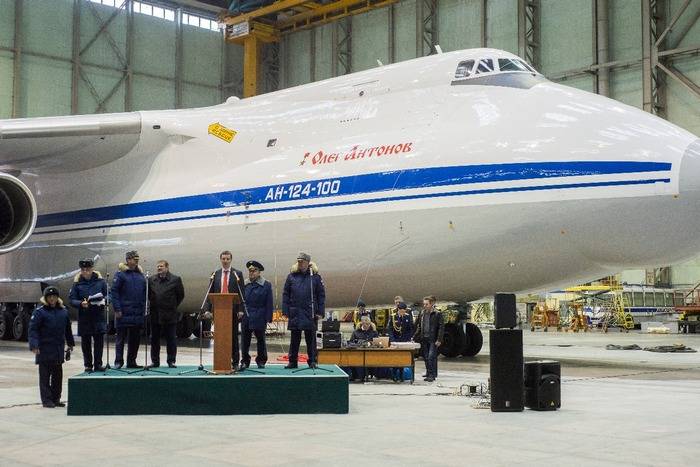 Oleg Konstantinovich Antonov (1906-1984) - Soviet aircraft designer, doctor of technical sciences, professor, academician of the USSR Academy of Sciences. Antonov, who headed the OKB-153 ("Antonov's company") in Novosibirsk after the Great Patriotic War, became the creator of the first-born of the new design bureau - the light multipurpose An-2. The name of Oleg Antonov is inextricably linked with
history
Russian military transport aviation, and the Il and An aircraft make up the core of its fleet today.
An-124-100 "Ruslan" - the most lifting aircraft in the world. "Ruslan" was developed in the first half of the 1980-ies in the Antonov Design Bureau together with leading Allied research institutes, enterprises, organizations of the aviation industry and ministries. The whole Soviet Union worked on its creation.
"Ruslan" was the last aircraft created under the direct supervision of Oleg Antonov. Two thirds of the world's largest serial transport workers were released in Ulyanovsk. Now the repair and modernization of An-124 in Russia is carried out at the Aviastar-SP aircraft factory.