Airbus, Rolls-Royce and Siemens announced the launch of a joint E-Fan X program.
bmpd
citing Air & Cosmos magazine.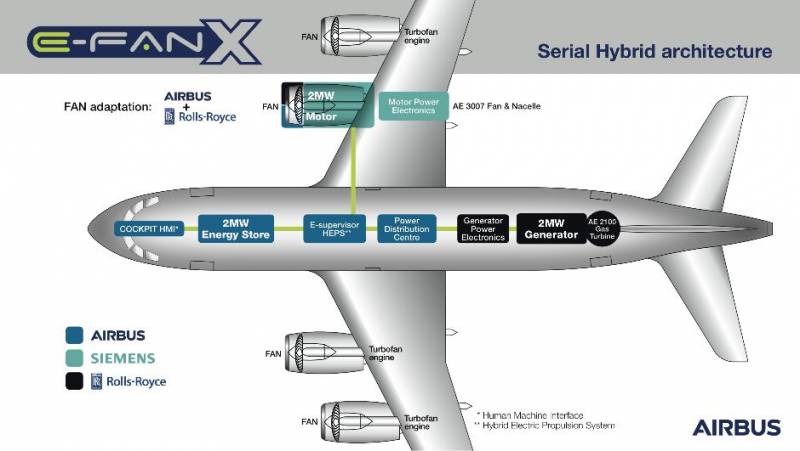 According to the program, in 2020, the first flight of a technology demonstrator based on a BAe 146 aircraft equipped with an 2 MW electric motor will take place.
"On the prototype plane, one of the four full-time turbojet engines will be replaced by an experienced electric motor. As soon as the test program is sufficiently advanced, a second electric motor will be installed on the aircraft, "explains the publication.
According to the head of the Airbus Science and Technology Center, Pavel Eremenko, E-Fan X represents for the company "an important step towards solving the problem of introducing electric propulsion into
Aviation
in the short term. "
The lessons we learned during the long chain of electric movement demonstrators (Cri-Cri, e-Genius, E-Star), and recently the E-Fan 1.2, as well as our cooperation with Siemens, set the stage for the emergence of a regional aircraft with a hybrid power plant, characterized by improved technical characteristics and increased efficiency. We consider the hybrid electric motor as the third option for motorization in the aircraft industry, after piston and jet engines,
said Eremenko.
It is reported that within the framework of the program "Airbus will be engaged in the integration, architecture of the motor control system, as well as its integration with the flight control system; Rolls-Royce will be responsible for the 2 MW electric motor; Siemens will supply two electric motors and an electronic control system, a frequency converter, an inverter and a wiring system. "