The Western media, including the Daily Mail, Daily Express and Daily Star, published materials on the new Russian submarine carrier Vladimir Vladimir, launched on November 17 in Severodvinsk.
The Daily Mail called the submarine "the most deadly submarine in the world." The article notes that Prince Vladimir is equipped with 20 (in reality, their 16 - approx.) Intercontinental ballistic missiles P-30 "Bulava", which have multiple warheads with 150 kilotons each. The submarine is capable of launching missiles at a distance of up to 9,3 thousands of kilometers and has a working depth of up to 400 meters, which makes it virtually invisible to locators, the publication emphasizes.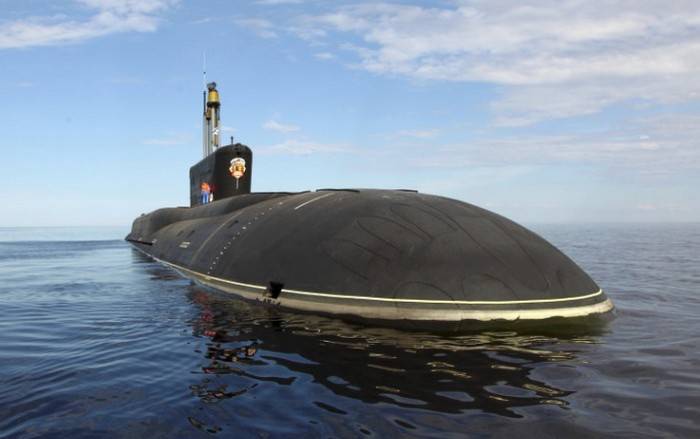 It is noted that the American rival "Prince Vladimir" - the submarine of Ohio - carries the Trident II 24 ballistic missiles, which have a shorter range of damage, while the submarine has less working depth.
In the comments under the articles there were lively discussions.
It seems that they have gone for years ahead when it comes to such things.
- writes Solution.
Most of the Russian
weapons
- junk that will fall apart by breakfast. No matter what your leaders say. Russia is not a superpower, and NATO thanks to the USA will easily crush these ancient
Tanks
and BMP
- BetterDeadThanRed argues with him.
Russia is becoming a world leader, and no one takes this into account. One day our leaders will come to an agreement, and this will provoke a war against it. We need to be with Russia on the same team, and not increase friction, as May does
- considers vivelo.
"Prince Vladimir" became the fourth nuclear-powered submarine of Project 955 Borey and the first modernized cruiser of the Borey-A series. He must be part of the Northern
fleet
already in 2018. Four more submarine cruisers are being completed at Sevmash; their launch is planned until 2022, reports
RIA News