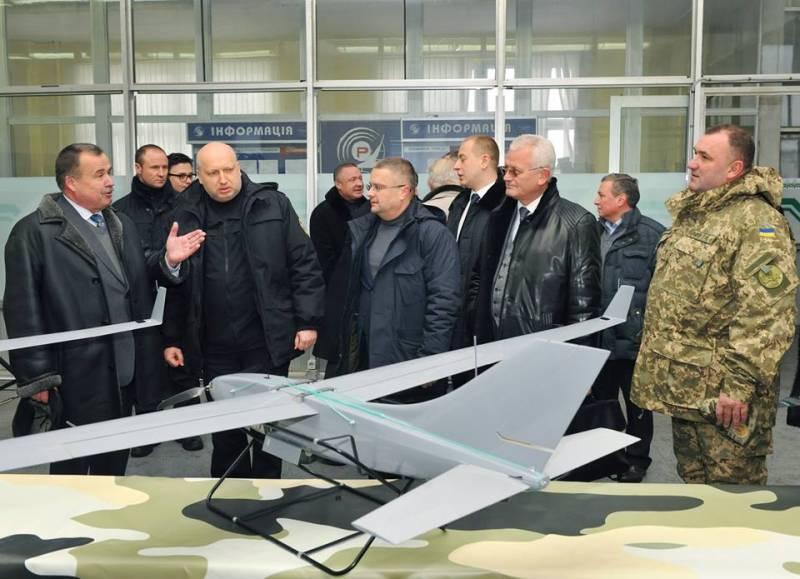 November 22 in Kiev, a videoconference was held on the topic "Re-equipment of the Ukrainian army
aviation
unmanned systems. Results of the year. Successes, challenges and challenges. "
The organizers of this event were Defense Express information consulting company and the Ukrainian manufacturer of unmanned aircraft complexes NPP Athlon Avia.
Literally from the first seconds of the video broadcast, attention was drawn to the fact that at this event there were no representatives of state structures - the Armed Forces of Ukraine and the state concern Ukroboronprom.
Such an unwillingness to participate could be understood if the Ukrainian Armed Forces were fully provided with ultra-modern LHC from Ukroboronprom. However, the real situation is quite different. At the moment, the Ukrainian Armed Forces do not have a single domestic BAC produced by a state-owned concern. Moreover, the drones used are produced either by private companies or by volunteers, and their number is negligible.
According to the director of the information and consulting company Defense Express Sergey Zgurets, no more than ten companies are currently engaged in the development and production of UAVs for the army in Ukraine, which are not able to fully meet its needs.
At the same time, today none of the private and state-owned companies have received a government order for the next year and do not know how it will be loaded next year.
"This will unbalance the work and planning of private companies. Perhaps this is one of the reasons why the number of companies developing UAVs has significantly decreased - from 50 in 2015 to 10. Of these 10, I know companies that are now thinking about fulfilling export orders, and not the order of the Ministry of Defense, "said the expert.
It turns out that there is a problem, but it only worries private traders and volunteers.
Then how to understand the leadership Ukroboronprom, which regularly talks about the next success in this area? Sweet Romanov and his "successful managers" under the guise of the state concern regularly present "passed departmental tests" drones of Ukrainian private companies and volunteers who never put into service.
The answer is obvious. It is much more profitable for the Ukroboronprom leadership to purchase more expensive foreign UAVs, getting unwholesy kickbacks, rather than producing their own. Domestic development Romanov needed only as a good picture, which allows you to hide his real criminal activity.