Avia Concern today
"Dry"
transmits
aviation
equipment in the part of the Russian Aerospace Forces. The company's press service reports on the transfer of a batch of front-line bombers Su-34. From the press service of the enterprise:
The company "Sukhoi" handed over another batch of Su-34 front-line bombers to the Russian Defense Ministry as part of the 2017 state defense order of the year. The aircraft flew from the airfield of the Novosibirsk Aviation Plant named. V.P. Chkalov and headed to the place of their deployment.
The press service of the concern, which is structurally part of the United Aircraft Building Corporation, reminds us that the state contract involves the supply of new aircraft to the troops for the period up to 2020 of the year. In particular, it is planned to deliver the Su-34 front-line bombers to various military districts.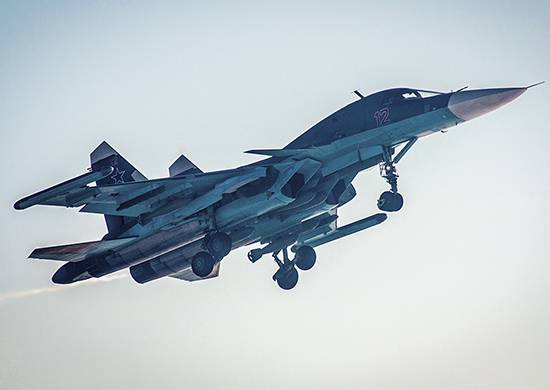 Su-34 - a multi-purpose aircraft, in addition to the functions of a bomber capable of performing actions inherent in a fighter. Refers to the generation of 4 ++. It has modern radar equipment, upgraded guidance systems and electronic warfare.
A few weeks ago, pilots of the ZVO of an air unit stationed in the Voronezh region, at the Kapustin Yar range near Astrakhan, practiced the use of Khibiny electronic jamming systems on Su-34 aircraft.