Howitzer "Msta B" caliber 152 mm is currently actively used by the Syrian army against militants of the terrorist group IG (banned in the Russian Federation), writes
Messenger of Mordovia
.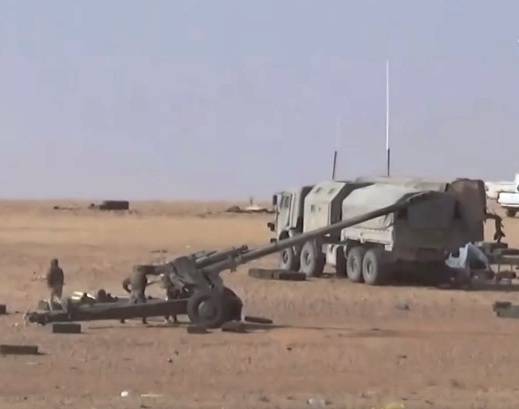 A video appeared on the Internet in which these artillery guns provide fire support to units operating in the Syrian-Iraqi border area.
The guns have proven themselves to be reliable and accurate artillery systems capable of hitting targets at a distance of 28 900 m.
In addition, for a long time, powerful armored tractors on the KAMAZ-63501AT Medved chassis with the wheel formula 8х8 hit the lens for the first time.
These cars were first seen in Syria in the fall of the year 2015. Their baptism of fire was an operation conducted in the Palmyra area in February of 2016. ATVs have a reservation 5-class protection cabs and located behind them inhabited compartments.
"The compartment for calculating the 6 man is equipped with upper hatches and side loopholes for firing from a personal
weapons
. The mass of ammunition transported can reach 5 tons. The machine has a crane-crane with a lifting capacity of up to 2 tons and with a maximum boom reach of 6,14 m, "reminds the author of the material Leo Romanov.
Engine in 360 hp allows the car to move at speeds up to 90 km / h, the power reserve of the Bear is one thousand kilometers.