In the "Favorite Weekend" rubric we continue to acquaint our readers with armies, other security agencies and principles of control in foreign countries. Today's note is devoted to one of the colorful armies of the world - the Nepalese armed forces.
Perhaps the main feature of the army of such a state as the Federal Democratic Republic of Nepal is the interval of draft age. The armed forces in this country are calling from 17 to 49 years, which automatically reduces the number of so-called "draft dodgers" who in other countries may try to reach the upper level of military age, for example, during training. I did not have time to serve to 25-27 years - it does not matter, son. - Serve in 40.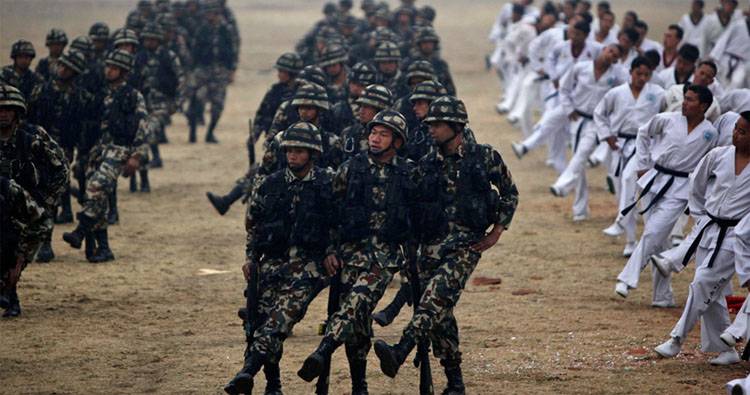 In the army of Nepal, so-called caste traditions are strong, when the opportunity to move up the career ladder for a soldier is determined by his belonging to a particular caste. For example, getting a high military rank to a representative of the caste stratum "Gurungi" or "Rai" is almost impossible.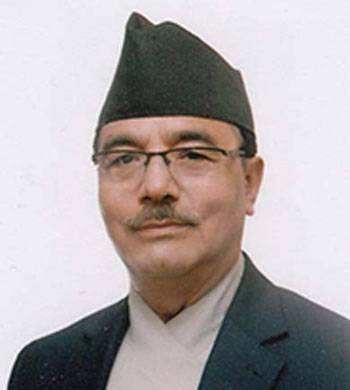 The current head of Nepal's military department, Bhimsen Dash Pradhan, is called "Honorary Minister of Defense." The Ministry of Defense itself as such in Nepal was created in the 50-s of the XX century. The official reasons for the creation of the military department in Nepal were then announced as follows:
The Ministry of Defense is created to protect the nation from internal instability and external threats by ensuring the sovereignty, national independence and integrity of the country.
The strength of the Nepalese army today is estimated at 90 thousand people. In service is the equipment of various countries of the world, including Russia. So,
aviation
the wing of the Nepalese armed forces is represented by 12 helicopters, five of which are multi-purpose Mi-17s. Ground equipment - armored personnel carriers, combat reconnaissance vehicles, howitzers. The largest "representation" are the Soviet BTR-70. Official statistics indicate that the BTR-70 in the Nepalese army is more than 120 units.
The official emblem of the armed forces of Nepal: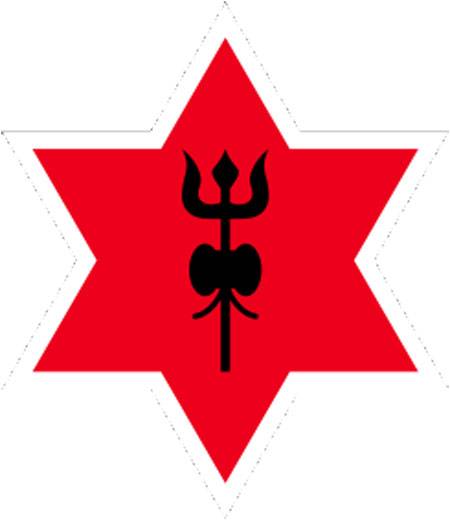 In Nepal, there is an officially registered Association of wives of soldiers of the Nepalese army.
The country's armed forces are actively involved in UN operations in different parts of the world. The Ministry of Defense of Nepal reports that, as of September 2017, over 11 thousands of servicemen, including 116 women, were involved in UN missions in Libya, Lebanon, Haiti, South Sudan, Mali and other countries.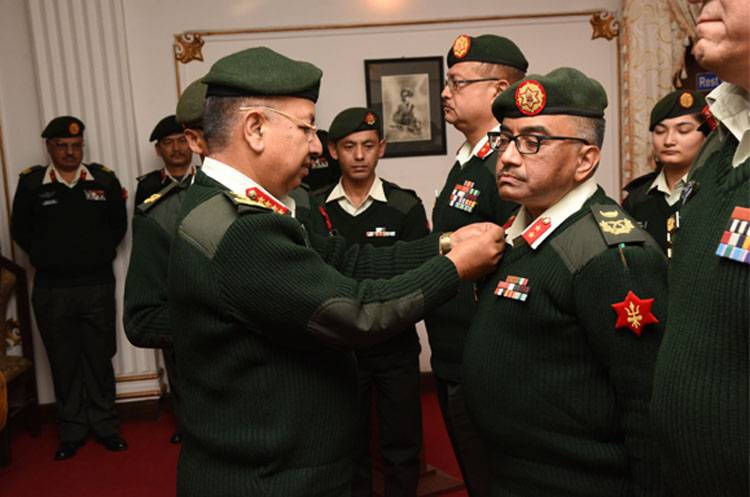 This fact gives the Armed Forces of Nepal the status of the 6 Army in the world in terms of the number of military personnel participating in UN international missions in relation to the total strength of the armed forces.