On the site, which monitors the information (misinformation) activity of militants on the Internet, there were statements about allegedly undermining the Russian military convoy in the province of Latakia. Militants of the terrorist group "Tahrir ash-Sham" (* banned in the Russian Federation) published a statement that the attack on the Russian military convoy allegedly occurred in the immediate vicinity of the Hmeymim airbase.
The site of the monitoring group CIT has published data distributed by the militants. The submission says that the attack was carried out with the use of a suicide bomber in the town of Bustan el-Bash.
Militants have announced that they have carried out an undermining of the Russian military vehicle, publishing several vague photos.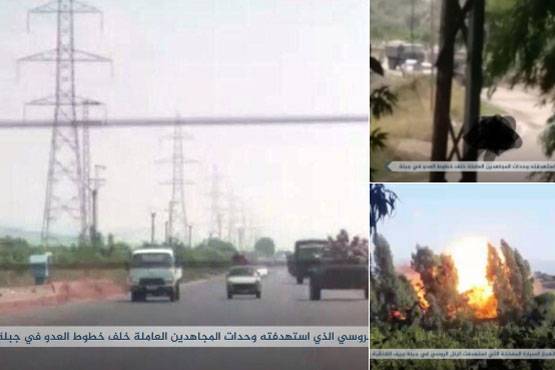 The Ministry of Defense of the Russian Federation for this hour does not publish any comments on this subject. Meanwhile, on the Arabian information portal AMN it is reported that the militants gave the desired (by them) as valid. Journalists of this media noted that not far from the airfield in Khmeimim, a Russian plane unintentionally dumped a fuel tank before landing. It is reported that the explosion of the tank when it hit the ground and fell on the frames, distributed as a photo of the "attack on the Russian column". As a result of the fuel incident
aviation
no one was hurt by the tank. Information is being specified.