The US Congress officially launched the process of replacing the legendary assault aircraft A-10 Warthog. According to the magazine Popular Mechanics, lawmakers voted to allocate the first tranche of $ 400 million for the purchase of new light aircraft support under the OA-X program.
Today, the United States Air Force has only one infantry direct support aircraft - A-10 Thunderbolt, also known as the Warthog (Warthog). These aircraft have already repeatedly extended the term of combat service, and some of them will remain in the US Air Force until 2022 year. Since an equivalent replacement for the well-armored and well-armed A-10 attack aircraft was not developed, the US Department of Defense plans to use a light strike aircraft instead.
Attack plane A-10 Thunderbolt II.
Four vehicles claim the "position" of the US Air Force combat support aircraft: Textron Scorpion, Embraer A-29 Super Tucano, Air Tractor AT-802L Longsword and Beechcraft AT-6 Wolverine. The US Air Force has already conducted the first stage of testing these aircraft in August of this year and even offered to use the Beechcraft AT-6 Wolverine and Embraer A-29 Super Tucano in real combat conditions in an experimental manner. In total, the United States Air Force plans to purchase about 300 light aircraft worth up to $ 1,2 billion.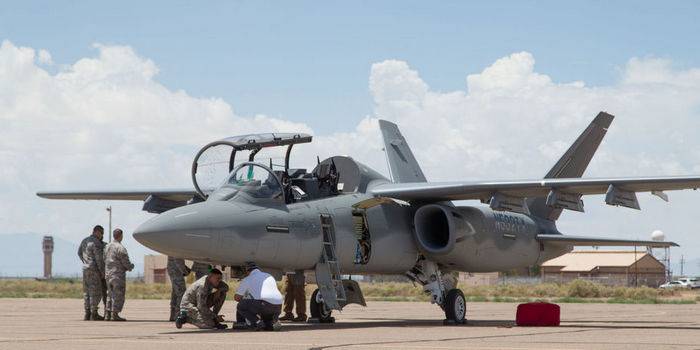 Light attack Textron Scorpion.
The military department has yet to decide on the final bidder for the purchase. At the same time, the purchase of new combat aircraft should take place next year, since the first stage of financing will start in fiscal 2018. The US Air Force indicates that the new aircraft will allow for effective use
Aviation
in conflicts with low intensity at minimal cost. So, if the flight hour of the F-35 fighter is estimated at $ 42, then for Textron Scorpion this amount will be only $ 000, reports
"Warspot"