President
Russia's Vladimir Putin, who is visiting Vietnam at the APEC summit, held a meeting with his Filipino counterpart Rodrigo Duterte. One of the topics of conversation was the successful actions of the Philippine security forces to destroy a large group of ISIL militants (* banned in the Russian Federation) on the island of Mindanao. In addition, Putin and Duterte discussed issues of bilateral military-technical cooperation.
According to Vladimir Putin, both Russia and the Philippines are confronted with terrorist threats, and therefore it is very important to consolidate efforts to counter international terrorism.
Vladimir Putin noted that he was pleased with the new meeting with Rodrigo Duterte, adding:
I remember how you had to interrupt your visit to Russia in connection with the attacks of terrorists on your country. I remember what you told me when you left, that you need to restore order, strike at the terrorists. I want to congratulate you on the fact that you managed to do this. I must say that this is one of our common tasks, concerns and problems - today's terrorism and the fight against it. In this regard, we are ready, as agreed, to develop our relations, including in the military sphere, in the military-technical field. Of course, we need to pay special attention to economic relations.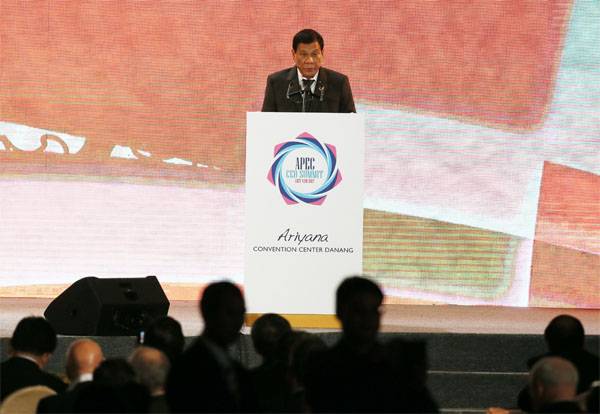 The President of the Philippines thanked Vladimir Putin for the words of support and the actual military-technical assistance. Duterte noted that a large group of ISIL terrorists (*) was behind the attack on the city of Maravi, which is why not only the police, but also army units had to be involved.
Rodrigo Duterte:
There are still pockets of armed resistance, we continue the operation to clean the city, still the city remains a dangerous place. I would like to convey to you words of special gratitude on behalf of the Filipino people for the timely assistance that Russia provided to us by providing trucks and weapons. It was just necessary for us to replenish our stocks. I want to convey to you the words of my military, who admired
weapons
Russia has supplied us. There we had to lead a new type of war, we had to fight with snipers, because snipers were the main threat to our troops. Just like in Syria, these people are hiding behind walls, in shelters. We were fighting, beating house after house. This is not such an easy thing. The weapons we received from Russia, modern weapons, are given to special units of our police. It really made a big difference. Now I intend to continue to purchase such weapons.
It was previously stated that Russia had delivered several military trucks and thousands of small arms to the Philippines by sea. Initially, it was about Kalashnikov assault rifles. All details of the supply of weapons is not disclosed.