The first serial small rocket ship (MRK) of the 22800 ("Karakurt") project will be launched in St. Petersburg in November, according to the Information and Mass Communications Department of the Russian Defense Ministry. Earlier, on the order of the Russian Navy, seven ships of this type were laid. Construction is being carried out at the sites of the Pella plant in the Leningrad Region and in the Crimea. In total, the fleet plans to get 18 such ISCs.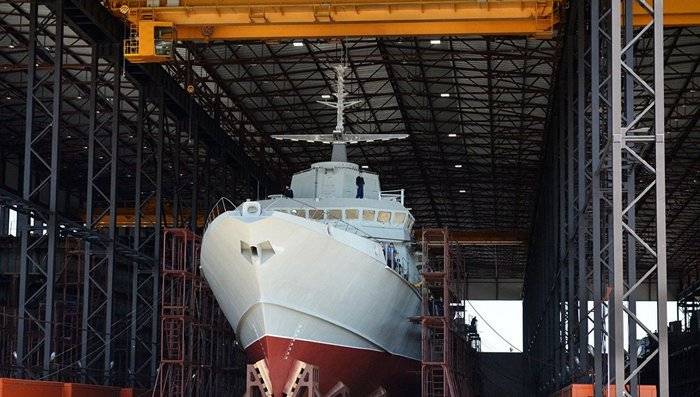 The lead ship of this project "Hurricane" is already on the water at the pier of the plant, where the outfitting work is being done.
- Reported by the department.
The new rocket ship has already received a name - "Typhoon". All ships of the project 22800 "Karakurt" belong to the class of small rocket ships. Their main purpose is to conduct combat operations in the near-sea zone.
It is planned that "Karakurt", adapted for action on the high seas, will complement the small rocket ships of the 21631 "Buyan-M" project, intended for shallow seas and large rivers.
Project 22800 was developed by the Almaz Central Marine Design Bureau for the Naval
fleet
. The armament of these ships includes shock and air defense systems
weapons
, combat control and detection systems, as well as target designation and communications.
Small rocket ships of the 22800 project have a displacement of 800 tons and a travel speed of up to 30 nodes. They are equipped with launchers of the 3C14 universal ship-shooting complex and are capable of carrying up to eight cruise missiles of the Onyx and Caliber families. In addition, they are armed with universal artillery systems and close combat systems.