By the end of the year, testing of the shock version of the Raptor patrol boats of the 03160 "Raptor" project, which differs from the original by significantly reinforced weapons, will begin, according to
News
.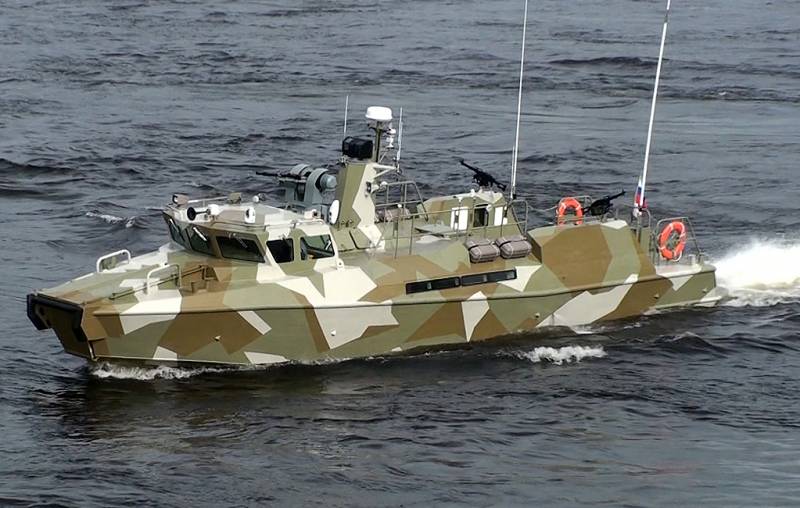 Archive photo
According to the newspaper, referring to the main command of the Navy, new shock "Raptors" will appear on all
fleets
and also in the Caspian Sea. The version with heavy weapons will be used to patrol the coastal zone and fight against small enemy ships.
"Also, the updated boats will be able to provide serious fire support to the landing party or special forces groups. The firepower combined with high speed make them ideal machines for road operations. The armament of new boats includes several combat modules of the "Administration Kord" with large-caliber machine guns KPVT, an automatic grenade launcher and an ATGM launcher. The composition of weapons may vary depending on the tasks to be solved, "the material says.
Boats can operate at a distance of 100 nautical miles from the base. They are capable of developing up to 50 nodes (about 93 km / h). They can also be carried on board a large landing ship.
According to military historian Dmitry Boltenkov, in recent years, the situation in the waters of the Baltic and Black Seas has noticeably worsened.
Russia has long maritime borders, and not everywhere on them calm. Some states or terrorist groups may try to throw their subversive groups onto the territory of Russia,
he said.
In addition, in a number of states "the mosquito fleet is actively developing, against which heavy and sluggish ships are extremely inefficient," the expert emphasized.
These factors made it necessary to have in the Navy well-armed speedboats, capable of
weapons
stop enemy boats and land boarding parties on them for inspection and final liquidation. In fact, naval armored boats that were in service with the USSR Navy during World War II are being revived. In this regard, the heavily armed Raptor-type speedboat seems to be an ideal vehicle for operations in the coastal areas of the Azov or Black Seas,
added on.