The Syrian government army continues to advance in the province of Deir-ez-Zor along the Euphrates, defeating the defeat of the terrorist group ISIS (* prohibited in the Russian Federation). The task of the CAA is to reach the border with Iraq. However, the situation in Deir ez-Zor remains much more complicated.
Today, the most fierce battles of Syrian troops with militants unfolded in the Hassarat district of the said city. Earlier in the media there was a message that the CAA took Hassarat completely under control. However, today the Syrian military itself says that it is not.
Syrian troops are moving through other areas of the city - Hamidiyu and Al-Orfi. The main goal of the Syrian troops is to take the Ishilians who remain in Hassarat into a tight ring and then - in the transition to their final destruction.
Aviation
this operation is not actually used, since in Hassarat there remains a considerable number of civilians who have become ISIS hostages (*).
It is noted that the operation for the complete liberation of Deir ez-Zora began to take place more successfully after additional special forces from the Tigers division joined it. In battles for the city I participate
tank
division.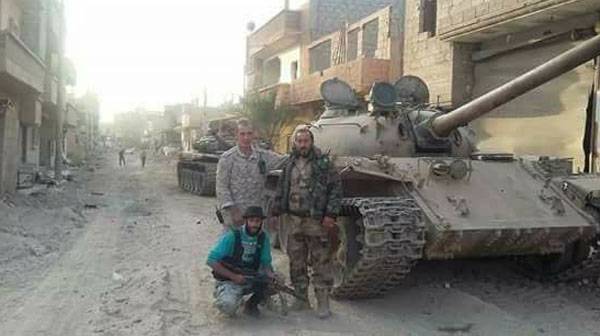 The technique is used in dense urban development. Reportedly, terrorist use of ISIL (*) anti-tank missile systems of Western production. Promotion of armored vehicles is hampered by the fact that the militants blocked the streets with construction debris, including large reinforced concrete structures. Often, the military equipment of the CAA is in separate squares of Deir-ez-Zor in igilovskie traps.