Squad of Baltic ships
fleet
as part of the Boyky, Soobrazitelny corvettes and the Cola tanker, which performs long-range missions, completed the passage of the Strait of Gibraltar and entered the Mediterranean Sea, reports
press office
Western Military District.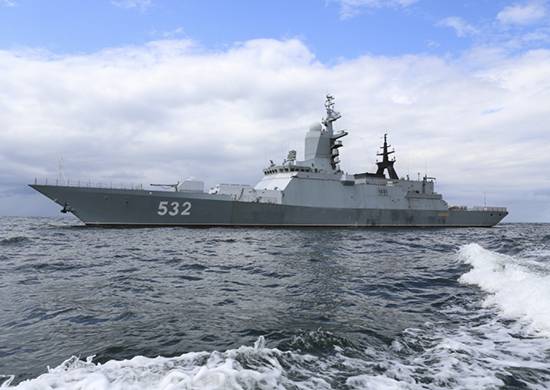 The newest Russian corvettes of the 20380 project visited the Mediterranean for the first time.
"During the transition across the Atlantic, crews of ships improved naval training, conducted a series of naval exercises to fight for survivability, anti-submarine and air defense, as well as maneuvering in areas of intensive shipping and fishing," the release said.
The crews of the Ka-27 ship-based helicopters based on the Boiky and the Savvy corvettes carried out a complex of flights in the eastern Atlantic Ocean.
It is reported that "in the near future the ships will move to the place of anchorage in the western region of the Mediterranean, where the next replenishment of stocks to the required standards will be held."
In the future, the sailors of the Baltic Fleet will continue to carry out combat training missions in the Mediterranean. Ship flights will also continue.
aviation
.
The detachment of ships left the Baltiysk military harbor on October 14 and set off on a long voyage as part of a regular naval presence in the oceans.
Currently, the fleet has 5-s of this type of ships, eight more units are being built, including three under construction on advanced projects 20385 and 20386.