A solemn closing ceremony of the first Indra-2017 Russian-Indian interspecific exercise took place in Vladivostok, reports
press office
BBO.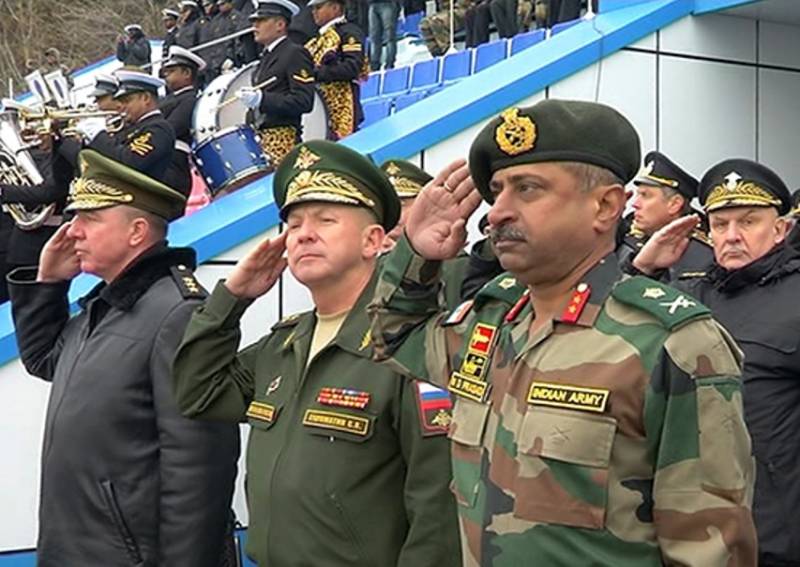 In honor of the completion of the Indra-2017 exercise, a parade was held during which the leaders of the exercise from the Russian and Indian sides, Lieutenant-General Sergei Solomatin, Deputy Commander of the Air Force, and the commander of the Indian Army Division, Major-General Nudurupati Durga Prasad, greeted the military of the two countries,
says release.
The Russian command noted that the past interspecific studies was the most ambitious in
stories
of the two countries and clearly showed how the level of interaction between the servicemen of Russia and India increased.
In turn, Indian Ambassador to the Russian Federation Pankaj Saran said that "the subject of the joint exercise - countering terrorism - is relevant and such exercises put a barrier on the way of terrorists." The diplomat also thanked the Russian side for the high level of organization of joint actions.
"By order of the Minister of Defense of the Russian Federation, a number of military personnel of the Armed Forces of India were awarded the medal" For strengthening the military community. " Major-General Nudurupati Durga Prasad also presented the Russian military with the medal "For the difference in the Indra exercises", the press service said.
It is reported that "after the solemn flag-laying ceremony of the Indra-2017 exercise, a solemn passage of the military personnel of the two countries took place."
The exercise ended with a span over the water area of ​​the Amursky Bay of four Su-35С fighters, four Mi-8AMTSH helicopters of the Air Force and Air Defense of the Eastern Military District and a military transport aircraft of the Indian Air Force.
The district recalled that "during the exercise for the first time in the history of the Russian Aerospace Forces, mixed international crews performed flights on Russian equipment, in which the role of co-pilots was entrusted to pilots of the Indian Air Force." Mixed crews piloted Su-30M2, AN-26 aircraft and Mi-8AMTSh helicopters, took part in the landing of tactical assault groups at the Sergeevsky training ground, and also hit
aviation
missiles target positions simulating the firing points of a conventional enemy.
Help press service:
"In 2017, the exercise was first held in an interspecific format according to a single plan. Instead of the Indra-Nevi-2016, AviaIndra-2016, and Indra-2016 exercises held earlier, one exercise was planned involving the warships of the Pacific fleet and the Indian Navy, the air and ground units of the Eastern Military District, and the Indian Army's ground units. "