Egyptian President Abdel-Fattah al-Sisi suggested that soon the militants squeezed out of Syria and Iraq may well try to move to Egypt and gain a foothold, for example, on the territory of the Sinai Peninsula. At the moment, several terrorist groups are already operating in Sinai, which are systematically marked by attacks of both military and civilian objects of Egypt.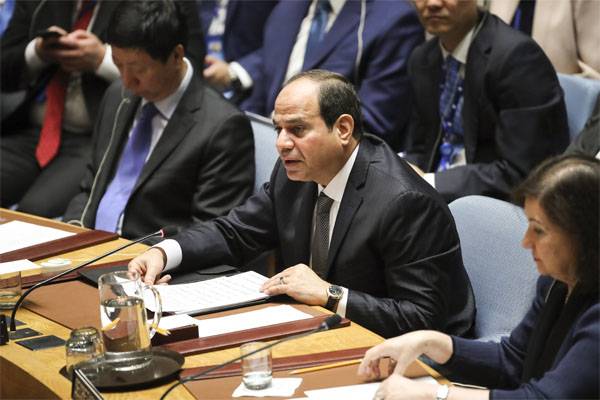 In an interview with the French television channel France24, the Egyptian president said:
We believe that successful antiterrorist actions in Syria and Iraq can lead to the transfer of a certain number of militants to Libya, and from there, probably, to Egypt. Terrorists can spread throughout virtually all of East Africa.
Abdel-Fattah al-Sisi called on the world community to get rid of the terrorist threat by joint actions, the main of which would be to deprive terrorist groups of funding. In fact, this proposal repeats the initiative of Moscow, expressed a few years ago. However, none of the Western banks have yet introduced mechanisms for countering financial operations carried out by terrorist groups.
According to the President of Egypt, the country has a very long border with Libya, in whose territory dozens of terrorist groups are in control.
Al-Sisi:
Since 2014, we have destroyed over 1,2 thousands of vehicles with
weapons
and the militants who were in them. But the length of the Egyptian-Libyan border does not allow us to talk about full control over it.
Recall that one of the recent battles of the Egyptian security forces with the terrorists ended in failure. The Interior Ministry announced 16 dead and 13 injured by Egyptian security forces. The country's press reports that more than 50 law enforcement officers have died in the battle with terrorists in the El-Wahat area. At the same time, 15 gang members were eliminated.