The Ministry of Defense of Russia will receive ahead of schedule
Tanks
The T-72B3, modernized as part of a major contract with the Uralvagonzavod Research and Production Corporation, a source in the military-industrial complex said.
We can say that the execution of the contract is completed. The last batch of T-72B3 tanks will be transferred to the troops even earlier than planned. This will happen in the next month.
- said the agency interlocutor on Thursday.
Earlier, the media already reported that Uralvagonzavod NPK received state orders for upgrading 150 T-72B tanks to T-72B3 worth more than 2,5 billion rubles, and it was planned to invest 17 million rubles in each tank. The upgraded tanks come to the troops in batches.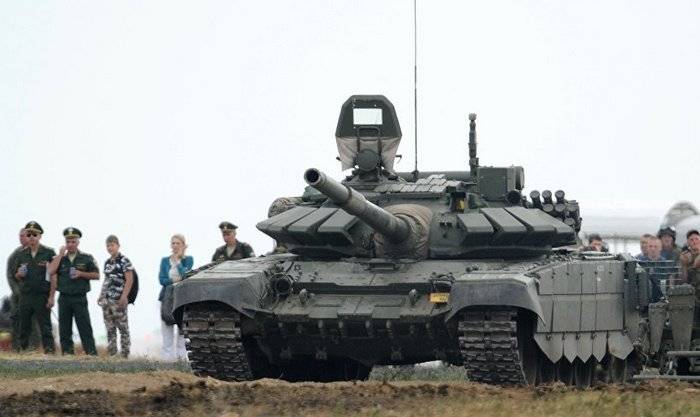 The T-72B3 is an enhanced version of the T-72 tank. The fire is conducted from 125-mm smooth-bore guns, thanks to its modernization, it became possible to use new armor-piercing sabot projectiles. Accuracy of shooting - both from the spot and on the move - is enhanced, thanks to the modern ballistic computer installed on the tank, an improved stabilizer and automatic target tracking.
The work was also done to automate the processes of monitoring and controlling the power plant: a controller for controlling the chassis systems was introduced to assist the driver, whose action parameters are displayed on a special display. Tank T-72B3 received all-protection protection. It allows you to significantly increase its vitality and effectiveness - both in the conduct of combined arms combat and in the course of combat operations with the massive use of anti-tank
weapons
.
Due to the additional protection, the tank is able to effectively resist the best models of main battle tanks. Thus, one of the directions to achieve greater invulnerability of the T-72B3 tank is to install the Arena-E active defense system, which allows detecting flying anti-tank weapons and significantly weakening their action or completely destroying it with specially defended protective ammunition, reports
RIA News