In recent years, a neologism has appeared in Europe - "Eurabia". This is the term that British writer and historian Bat Yeor uses in his book "Eurabia the Euro-Arabic Axis". The term "Eurasia" denotes the prospects for the development of Europe, taking into account Islamist migration.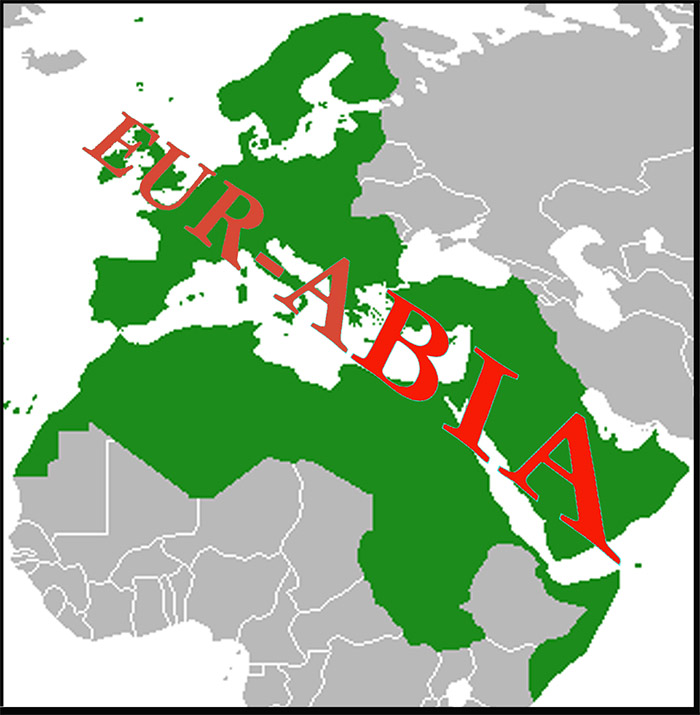 At present, the number of Muslims living in the European Union is reaching 16 million. At the same time, the population of the European Union totals 500 million people. In the near future in Europe is expected to further increase the Muslim population.
So, "Eurasia" means a complete change and transformation of the entire European continent into something completely different. These changes will certainly affect the demographic indicators of Europe. Will change her perception of her own
stories
and culture, their civilization, their laws and institutions, their policies and the totality of all those elements that create its present and determine its future.
Apparently, Europe, given the low fertility rate of the indigenous population compared to Arab-Islamic immigrants, will lose its identity over several decades. As well as their freedom and civil rights of the indigenous peoples inhabiting it. The fact is that Muslims, when they become a "critical mass," can claim to be included in the various national legal systems of norms, as prescribed by the "sharia". But "sharia" is a prescription that defines beliefs, as well as forming a religious paradigm and moral values ​​of Muslims who in no way belong to non-Muslims.
It should be noted that the political short-sightedness of the power elites in Europe is one of the most important reasons for the widespread Euro-skepticism among European nations.
In the new millennium, as Islam advanced into Europe, there was not a meeting, but, unfortunately, a clash between European and Islamic civilizations.
This was inevitable since the openness of European society does not impede the immigration of people from all over the world. Naturally, among all other cultures, only Islam could come into direct conflict with European culture.
All because Islam is not just a religion, like Christianity or Buddhism, is, above all, a political religion.
If we think that by destroying the leaders of extremists and destroying ISIS and al-Qaida (terrorist organizations banned in Russia - Ed.), We will stop the "jihad" - we are deeply mistaken.
Advocates of Islam argue that the concept of "jihad" refers not only to the conduct of war. But in a broad sense, it means constant aspiration and diligence in everything that contributes to the triumph of the ideals of the Islamic religion.
In addition, we must consider another element of Islam - "give". Davat has nothing to do with missionary or humanitarian activities among believers of the same faith. "Davat" is a real political force, which is aimed at the Islamization of the country in which it operates. The goal of the "davat" is not to save souls, but, since Islam is a political project, "to change the institutions of society and replace them with sharia".
Europe is not really ready to build that idealized multicultural and multinational community, which was so attractive in theory, and which we have so often spoken about lately.
There are two reasons for this, as I see it.
First, Europe is unable or unwilling, and perhaps no longer able to recognize its own cultural roots, as a result of which it may soon lose its own identity. That is, to lose the totality of qualities and achievements that enabled her to reach such a high level and take a worthy place in the world.
The main problem is that Europe has renounced its Christian roots and is now experiencing a process of spiritual degradation. Refusing their religious and cultural identity, the Europeans adopted the "non-values" of liberalism and individualism.
These ideas are alien not only to Europe, but to human nature itself to the extent that people, resisting them, go into nihilism or begin to look for alternative ideologies. For example, Muslims of the second and third generations who have been living in Europe for decades, as a rule, go to radical Islam.
We know that hundreds of radical Islamists from Europe have left to fight in Syria on the side of ISIS. This problem is not only political, but also socio-psychological. Indeed, despite the fact that these people were born in Europe, many of them feel marginalized. They sense the shortcomings of the capitalist system and begin to look for new political utopias.
A change of consciousness changes their ability to perceive the surrounding reality: barbarism begins to seem heroic, obscurantism - a revelation, and the military successes of the "Islamic state" - proof of the power of its ideology. First of all, ISIS is an ideology, and it is very attractive in the eyes of many European Muslims.
Secondly, for several decades Europe, according to the official version, in order to resolve its social and economic difficulties, even stimulated immigration from Muslim countries. Attempts were made to integrate Muslims into European society, which, it was thought, could help bring immigrants closer to Europeans.
However, the integration did not take place. The idea of ​​multiculturalism, proposed by the European political elite, did not work. On the contrary, this migration flow to Europe has become a "Trojan horse". Opening the doors of Europe to this whole horde is a madness. This is a capitulation. This is an ethnocide.
As for the concept of ethnocide, anthropologist Anthony D. Smith, in his study on the ethnic roots of nations (Ethnic origin of nations), states that in some cases external pressure, adding to some internal changes, leads to such radical changes in the very quality of the ethnic group, what is the "ethnocide".
In this case, the most important determining factor in a cultural mutation is a demographic mutation. Newcomers suppress Aboriginal people, both physically and culturally, by destroying the established ancient "myth-symbolic" complexes that are present in the old society.
When these changes are so extensive that they lead to the destruction of previous local ethnic forms and traditions, then in this case one can speak of a final "dissolution" of the old ethnos or ethnocide.
The Europeans hoped that newcomers would find ideas of democracy, tolerance, pluralism, equality before the law of all citizens, regardless of their gender and race or religion, attractive and worthy of support, and borrow these values ​​with enthusiasm. But this did not happen.
European values ​​were not only not perceived by immigrants, but on the contrary, they were used to the detriment of the Europeans themselves: immigrants acquired a number of privileges that, for example, in Italy are inaccessible even to the most needy segments of the local population.
This social contradiction, that is, the unfair distribution of rights and obligations, is today a powerful stimulant for mass riots.
Integration has not occurred. She, by definition, involves two-way traffic, a constant mutual rapprochement. It is based on mutual respect. But where is the respect from the new arrivals? From their side is not visible desire to perceive European values, culture. Even in spite of the fact that they are given everything that a European society can offer: social privileges, as well as the right and opportunity to freely practice their religion (just look at how many mosques were built throughout Europe).
From them, in return, no gratitude. But there is a degradation of cities, social aggression, violence against European women ... Increasing crime rates - this is a new, "multicultural" Italy.
In all public discussions on migrants, the main thing is not mentioned: the complete absence of European culture (in my particular case, Italian). Newcomers do not study, they simply refuse it ...
We are talking about centuries-old traditions, costumes, respect for art and architecture, love for the usual way of life, and culinary preferences. All this is simply swept away by this horde. They do not want and are not going to respect the country to which they came. For example, in the same Italy, which is unique in the world. A country that, by its artistic beauty, can truly be considered the cultural heritage of humanity.
Even the second generation of migrants is not able to fit into the Italian way of life. One generation is enough to destroy everything that has been built over a long history, and that you will never return ...
Europe over the past forty years has been passionate about one political and economic project. The essence of the project is that its goal is to replace the cultural-anthropological European reality itself with another, more "pliable" one. The authors of this undeclared project are the financial and economic manipulators of globalization.
Their ultimate goal is the implementation of the idea of ​​globalization, the creation of a "unified world government". This includes bringing all peoples to a single behavioral model: choosing one language, turning the entire population into a single religion (the religion of the market, and not into one of the traditional religions), introducing a single currency into circulation, building a single identity, a single culture ...
According to Professor Alexander Dugin, a person is not universal, he is pluralistic, that is, he is different from others. Man as an individual, deprived of his circle, his religion, traditions, does not exist in nature. It can exist only as a concept, as a nihilistic idea.
Professor political scientist Kelly M. Greenhill conducted a study called "Mass migration
weapon
: Deportation, Enforcement, and Foreign Policy, published in her book (Kelly M. Greenhill, Weapons of Mass Migration: Forced Displacement, Coercion, and Foreign Policy, Cornell University Press, 2011). Previously, this work was published in 2008 year in the specialized journal "Civil Wars". In the study, the author emphasizes: she is able to eliminate any residual doubts that we are faced with a new unconventional weapon, "mass migration weapons."
Consequently, speaking of the Islamization of Europe, we must take into account the idea of ​​the "Global Village" - the definition of Marshall McLuhan, expressed in his book "The Gutenberg Galaxy: the Making of Typographic Man".
Immigration, of course, is a consequence of globalization, which forces the people of the Third World to emigrate from their countries because of hunger and, in particular, in search of economic well-being to other countries that are painted by the West as a real paradise on Earth.
I am sure that identity is an integral part of a person. It is an internal component of ourselves that cannot be abandoned. For what reason we are offered to abandon it? Why endure such injuries? What exactly will we get in return?
If we delve into this issue, we can see that in talking about the possible future Islamization of Europe, bearing in mind the plan for its conquest by Islam through immigration flows, the reasons why the political elite of Europe supports this immigration process are never covered. .
For the Western Atlantic political and economic elite, the ultimate goal of transforming Europe is to turn it into a so-called "melting-pot" - a melting bowl, according to the American model. In this Europe, different ethnic groups will be represented (with typical ghetto quarters and corresponding social problems related to poverty, crime and inter-ethnic clashes), devoid of any culture and traditions. In essence, the ultimate goal is the creation of an individual who represents the ideal faceless "consumer" managed and used precisely because he is deprived of the deepest part of his nature.
That is why the Muslim mass became so important and was sent to Europe. The ultimate goal of the project of world domination is not just to Islamize Europe, but to destroy what is called European identity, the Europe that is the cradle of deeply rooted traditions and values.
So what will be the future of Europe? Will Europe soon become Eurabia? I'm afraid so! Demography is mathematics, and mathematics is not fiction.
Nevertheless, I do not think that Europe will so easily reach the total destruction of the identity of its peoples under the weight of immigration.
At the risk of being pessimistic, I am convinced that Europe will soon turn into a place of clash of civilizations. There will be no obvious front, but there will be a lot of outbreak of conflicts on the map of Europe, similar to the skin of a leopard. Entire areas that will increasingly go out of control of state bodies.
Many years ago, in 2000, before 11 in September of 2001, Cardinal Giacomo Biffi talked about what was already happening at that time in Europe. Many of his judgments were prophetic.
"Europe will again become a Christian or become a Muslim. What seems to me to have no future is the "culture of non-existence", unlimited freedom without content, skepticism, lauded as intellectual profit. Profit which seems to be dominant in European nations, more or less rich in means and poor truth.
This "culture of non-existence" (supported by geodonism and liberal insatiability) cannot withstand the ideological attack of Islam, which is coming. Only the acquisition of Christianity again as the only salvation for man, only the firm resurrection of the ancient soul of Europe can offer a different result of this inevitable confrontation. "
Today, unfortunately, neither "secular" people in Europe, nor Christians do not realize the inevitable catastrophe. "Secular" make it difficult in all respects the activities of the Church. They do not notice that they are fighting against the strongest inspiration, the most effective defense of Western civilization and its values: rationality and freedom. And believers, repaying the awareness of truth in themselves, prefer a simple "dialogue" with "other cultures", unconsciously preparing their own extinction ...