Russia attacked terrorists in the Al-Mayadin area with Caliber cruise missiles. The CAA and VKS RF continue to narrow the Akerbat Cauldron in Homs. Reports about it
FAN
with reference to Syrian sources.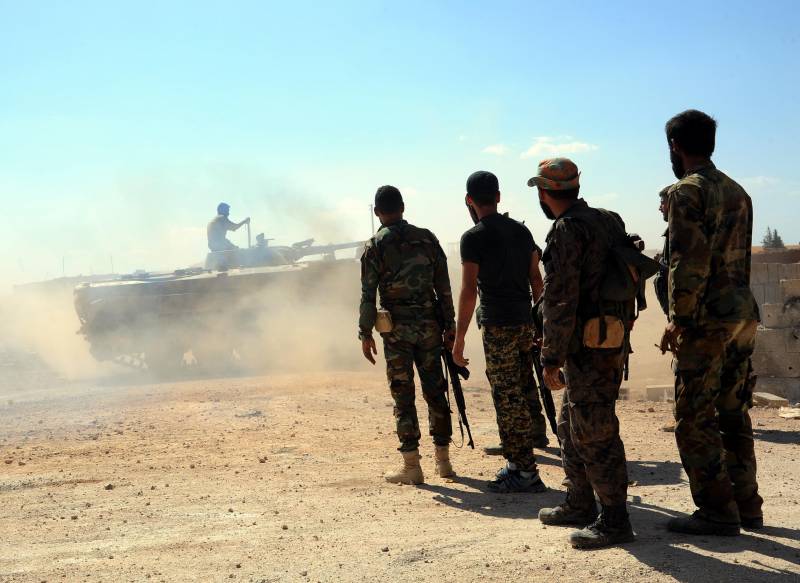 During yesterday's day, clashes between militants and units of the Syrian Arab Army (CAA) continued in the northeast of Damascus. Radicals managed to occupy a pharmaceutical factory. Armed clashes between government units and opposition groups near the Khosh al-Dawahir settlement were also noted. The attack of the 105 Brigade CAA was repelled.
During the day, militants of the IG group (banned in the Russian Federation) made several attempts at a counter-offensive in the area of ​​the Al-Sukhna-Deir ez-Zor highway. With the help of Russian videoconferencing, the government forces are still able to maintain their positions. Military experts claim that the terrorists intensified the fighting in Homs in order to divert the Syrian Arab Army (CAA) and the Russian Aerospace Forces from the offensive in the province of Deir ez-Zor. Meanwhile, to the east of the city of Salamia, on the territory of the Akerbatskiy Kotla, battles took place between the forces of the SAR and the radicals of the terrorist group. From the radicals, the settlements of Tal Shihab and Al-Luj were cleared.
In the province of Deir ez-Zor, the main hostilities took place around the city of Al-Mayadin, located southeast of the administrative center. Thanks to the air support of the Russian
aviation
government units and allied militia units managed to reach the vicinity of the village. At the moment, the CAA's advanced forces are located approximately four kilometers from the outskirts of the city. Throughout the day, the troops conducted shelling of the fortified areas of the radicals. In anticipation of the Allied offensive from submarines of the Russian Navy in the Mediterranean, ten Caliber missiles were launched. As a result of the attacks, the terrorist group suffered serious losses in manpower and military equipment, and the ammunition depot was destroyed.
In the south of Dar'a province, the Islamists of the antigovernment coalition have once again intensified their hostilities. Territories occupied by the Syrian Arab Army (CAA), in the Al-Manshiya area, as well as near the height of Tel Kurin in the north of Dar'a, came under fire from militants. No losses are reported.
In the city of Rakka continued fierce fighting between the Syrian Democratic Forces (SDF) and the formation of the IG. The planes of the western coalition conducted several combat missions in the regional capital, as a result of which several firing positions of the terrorist group were eliminated. However, the militants again managed to seize the school building of Al-Rashid, the police station, as well as the residence of the governor. In turn, the Kurds were able to detect a small storage of explosives ammunition and IEDs, as well as a factory for the production of mortars in the Al-Nahda area.