During the second stage of the Russian-Chinese doctrine "Sea Interaction - 2017", 11 surface ships, 2 submarines, 2 deep-sea rescue vehicles, 4 anti-submarine aircraft and 4 helicopter will be involved.
press office
Eastern District.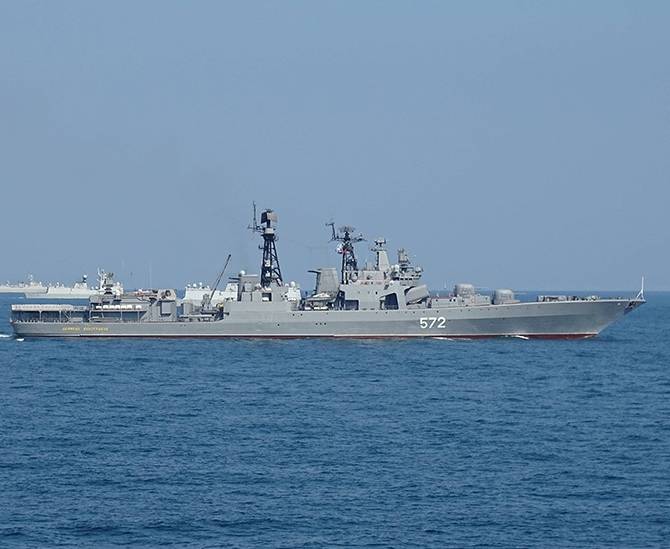 During the offshore phase from the Russian side, the large anti-submarine ship Admiral Tributs, the corvette Perfect, the rescue ship Igor Belousov with the deep-sea rescue device AC-40 on board and the missile boat P-11 will be involved. From the Chinese side - the destroyer "Shi Jiazhuang", the patrol ship "Da Qing", the integrated supply ship "Dong Pinghu", the rescue ship of the 926 project "Chandao" with the rescue deep-water apparatus "Elar-7",
says release.
As a support force, the small anti-submarine ship Sovetskaya Gavan, two diesel-electric submarines, the hydrographic vessel Viktor Faleev and the sea tug MB-93 are involved in the maneuvers.
In addition, "during the marine phase of the exercise, issues of interaction with
aviation
. This element will involve 2 Il-38 aircraft, 2 Tu-142M3 aircraft, a Ka-27PS helicopter and a Ka-27 helicopter of Pacific naval aviation
fleet
". Chinese aviation will be represented by ship helicopters Z-9C and Z-9D.
The exercise will take place from 18 to September 26 on the basis of the Pacific Fleet. From 18 to 21, the Marines of the two countries will be trained at the Ermine firing range. The offshore phase will be developed from 22 to 26 September in the waters of the Japan and southern Okhotsk seas.