Aerospace forces of Russia destroyed about 180 infrastructure facilities of terrorists in the Akerbat area in Syria within 24 hours, Lieutenant-General Alexander Lapin, chief of staff of the Russian armed forces in Syria, told reporters on Tuesday.
Just yesterday, in the interests of the offensive of the Syrian army in the area of ​​Akerbat
aviation
The Russian Aerospace Forces completed more than 50 sorties, as a result of which about 180 gang units were destroyed. Strong points and fortified areas, underground shelters, command posts, separate terrorist units, artillery positions, ammunition depots and fuel and lubricants
Said Lapin.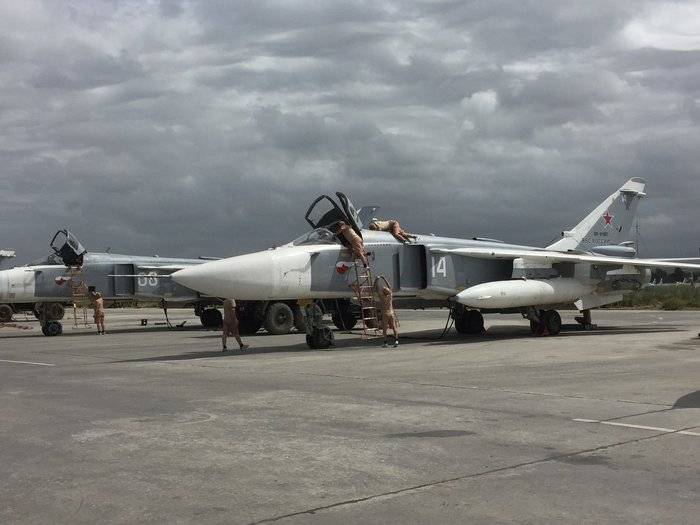 He recalled that in the central part of Syria, government troops liberated the strategically important transport hub - the city of Akerbat, which was turned by militants into a powerful fortified area.
Currently, terrorists blocked the remaining routes of delivery of ammunition and materiel. The grouping of the Syrian army continues the operation to clear the area of ​​ISIL gangs * in areas to the west and north of Akerbat. Despite heavy losses, gangs continue to offer serious resistance.
- stressed the general.
According to him, during the stubborn battles during the last week, eight more settlements were liberated, which made it possible to "dismember" the militant grouping in the Akerbat area and carry out its defeat in parts.
In the interests of supporting the offensive of the Syrian armed forces, Russian aircraft conduct round-the-clock air reconnaissance to detect and destroy terrorists' manpower, weapons and military equipment, as well as warehouses with ammunition and materiel
- stressed Lapin.
Also, the group headquarters reported on the situation in Deir ez-Zor.
Currently, the operation to liberate the city continues. Syrian troops are completing the rout of the ISIS group, which blocked the northern and southern districts of Deir ez-Zor
Said Lapin.
He recalled that 5 of September, Deir-ez-Zor, which for more than three years had been in a dense ring of encirclement and in the very center of the territories controlled by IS, was unblocked by Syrian troops under the command of General Hassan Suchel, reports
RIA News
.
ISIS * is a terrorist organization banned in Russia