The Russian Navy will receive special combat "cocoons" to accommodate torpedoes and missiles that are installed in the submarine's inter-body space or loaded into a torpedo tube, according to
News
.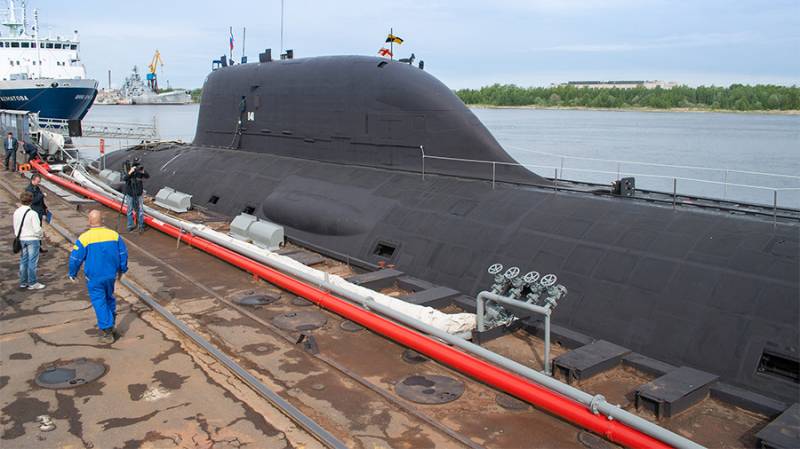 According to experts, this "allows, without changing the design of the ship and the combat control systems, to significantly expand the number of types of ammunition used." At the same time, the product ensures their safe storage and, if necessary, immediate combat use.
"" Cocoons "- unified transport and launch containers (TPK). Created by the St. Petersburg Marine Bureau of Mechanical Engineering "Malachite". By design, all submarines have a two-hull structure consisting of an internal "strong" and an external "light" hull. The first place equipment and mechanisms responsible for the movement, control of the ship, as well as launching devices for rockets and torpedoes. The second, external, is responsible for the hydrodynamic characteristics of the ship. There are ballast tanks between the hulls, "the article says.
According to the leading specialist in torpedo armament of Malakhit JSC, Alexander Konyukhov, at the present time "TPK has been tested and is already being used on submarines of the" Ash "type.
The container is unified for torpedo tubes of caliber 533-mm. And thanks to the simplicity and ease, in addition to large submarines, it can be placed on small submarines, said Konyukhov.
TPK is made as an independent starting device. Torpedoes or missiles are stored in it in a "dry" state. Combat equipment and verification of the "cocoon" occurs on the shore. Therefore, it does not require additional maintenance on the ship. Start control is carried out with standard equipment - remotely.
"The container provides the use of torpedoes, rockets and anti-torpedo caliber 324 mm in length to 3,2 m at a depth of 400 m. Outwardly, it looks like a normal pipe with a length of 4,7 m, at the head of which is a locking device. On the case there are several standard technical connectors for connecting the shipboard equipment to control the launch of rocket and torpedo weapons. The launch of products is carried out by a pulse gas generator. It provides instant application.
weapons
when you press the "start" button on the weapon control panel, "the newspaper writes.
Military historian Dmitry Boltenkov told the publication that the nuclear submarines of project 885 are unique to the Russian
fleet
design: "unlike other submarines, torpedo tubes on them are not in the front hemisphere of the ship, but behind the wheelhouse, between the strong and light hulls."
Nuclear-powered attack submarines 885 of the Yasen type project are among the most secret in the Russian fleet. Unlike the newest strategic submarine rocket carriers of the 4 955 generation of the Borey project, for which the first time applied technical stuffing is no more than 40%, the 885 boats of the project have all the systems, components and mechanisms completely new, never before. This high-tech equipment, which has no analogues in the Soviet and Russian military shipbuilding,
said Boltenkov.