According to the information of the Internet portal
newsru.co.il
, the newspaper Maariv HaShavua reports on the Israeli military department's verification of information about the refusal of operators of Aeronautics Defense Systems to demonstrate the capabilities of unmanned vehicles transferred to Azerbaijan for Armenian purposes.
It is stated that the defense ministry of the country received a complaint, ADS denies the charges contained in it.
The company delivers its products to customers in the 50 countries of the world, exclusively in accordance with the licenses of the defense export control department at the Ministry of Defense. Aeronautics will never demonstrate on live targets. The same applies to this case.
More than a month ago, an ADS delegation visited Baku to discuss a new contract for the supply of UAVs, in particular the so-called barrage ammunition. Azerbaijani militaries, who were counting on organizing a public television broadcast, expressed a desire to see them in action in real combat conditions, but were refused by drones operators, despite pressure from the delegation's leaders. One of the operators quit, the second is going to do it.
Israeli MoD rules prohibit local
weapons
companies directly or indirectly participate in hostilities in other countries without a special order of the Ministry of Defense (which is extremely rare).
At the beginning of this year, the production of self-propelled locking ammunition "Zarba", which is a licensed version, was launched at the AZAD Systems enterprise of the Azerbaijani production association Sharg.
UAV "Orbiter-1K"
Israeli company Aeronautics Defense Systems with a warhead.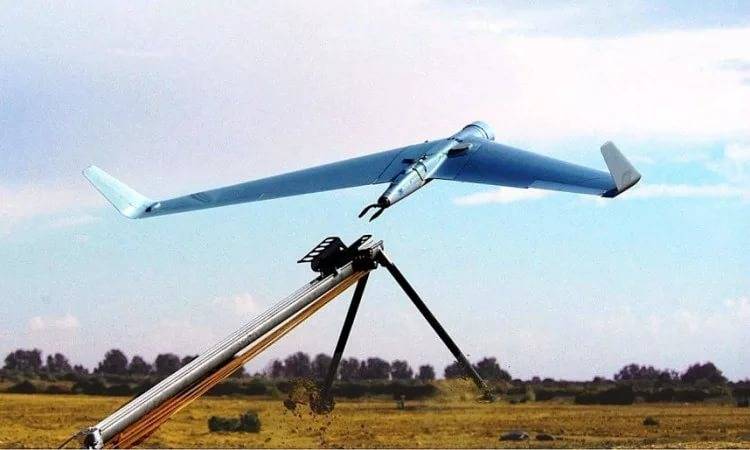 UAV-kamikaze "Orbiter-1K" is designed to combat infantry and lightly armored mobile and fixed equipment of the enemy. The drone can operate at a distance of up to 100 km at a speed of about 130 km / h at altitudes up to 5500 m for 2-3 hours. The target is affected by a high-explosive fragmentation warhead weighing 2,5 kg (4000 tungsten balls), the explosion of which produces a cloud of fragments with a radius of up to 25 m. Undermining can occur in the air, with a time delay and during contact with the target. A UAV takes off with a catapult, sits down with a parachute and an inflatable chamber.