The contest "Airborne platoon" ended in the framework of the international tournament "ARMI-2017". The press service of the Russian defense ministry reports that the first place in the aforementioned competition was taken by soldiers from the People's Republic of China. Competitions were held near the Chinese city of Guangshui.
In addition to Russia and China, representatives of the paratroopers from South Africa, Tajikistan, Venezuela, Kazakhstan and Morocco took part in the competition program.
The results of the winners are as follows:
Chinese team - 62 points, Russian team - 50 points, Kazakhstan team - 42 points.
The Landing Platoon Competition is held for the first time in China. In total, the competition lasted 10 days. The main events were held at the Haodian training ground (Hubei province).
Stages of the competitive program:
Landing in the composition of the platoon, the search for cargo on the site, landing, march.
Individual BMD (BTR) race.
Biathlon (shooting out of various positions) in the composition of the branches, shooting from rifle
weapons
and grenade launchers, without crews.
Sprint on BMD (BTR).
Overcoming the airborne assault strip with natural and artificial obstacles.
Pursuit on BMD (BTR) with shooting. Orientation of choice in the composition of the branches (race patrols), without crews.
Relay on the BMD (BTR).
March-throw (relay race) with overcoming the obstacle course for the airborne units with shooting from small arms without crews.
Individual leap for accuracy.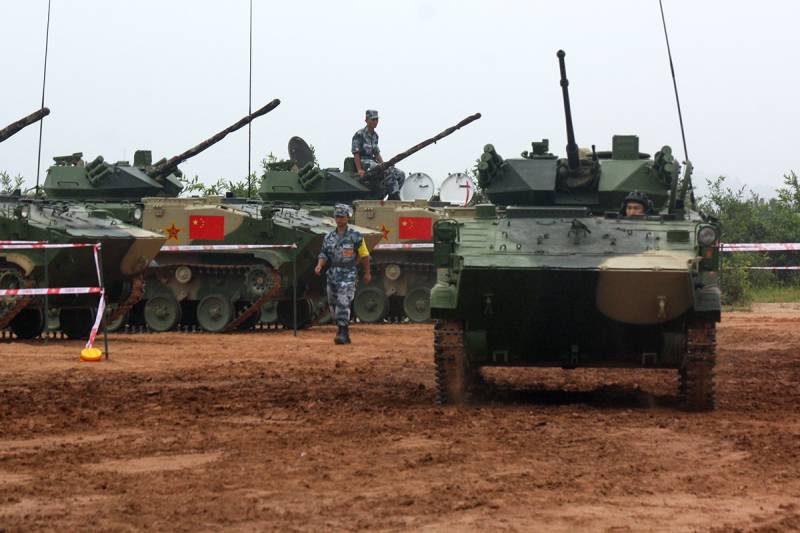 Photos from the site
ARMI-2017
Tomorrow - August 10 - the winners and prize-winners will be awarded.