The main naval parade in honor of the Navy Day was held in the waters of the Neva and on the Kronstadt roadstead, reports
RIA News
.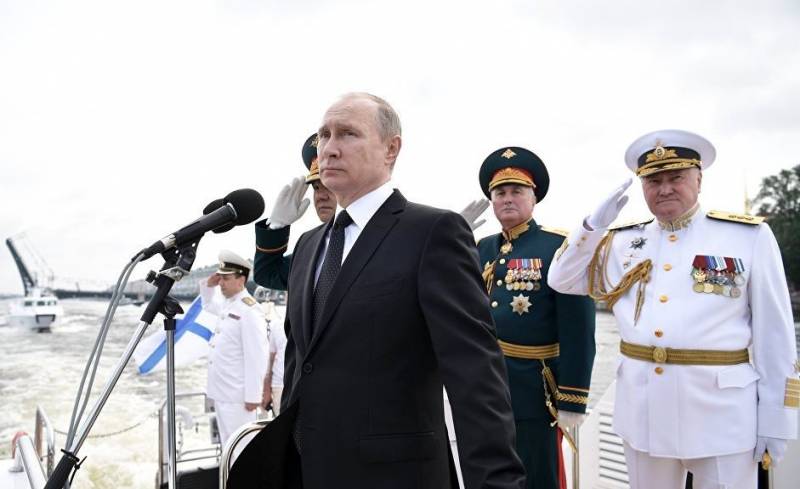 "The flagship of the North arrived at the parade
fleet
the Peter the Great heavy nuclear missile cruiser, along with the Dmitry Donskoy strategic missile cruiser, the largest submarine in the world. The ships specially moved from their permanent base in Severomorsk, passing the Barents, Norwegian, Northern and Baltic Seas, "the report says.
The submarines of the 877 project (Dmitrov, Vladikavkaz) and 636.3 (Velikiy Novgorod, Kolpino) also took part in the parade.
In addition to them, the cruiser Marshal Ustinov, the large anti-submarine ship Vice Admiral Kulakov, the frigates Admiral Makarov and Admiral Gorshkov, the corvettes Steady and the Smart, the large landing ships Minsk, were "Ivan Gren" and "Alexander Shabalin", small anti-submarine ships, minesweepers, missile, amphibious and anti-diversion boats, "the agency listed.
For the first time, Chinese ships took part in such an event: the destroyer Hefei, the frigate Yuncheng, and the support ship Lomahu. All of them were involved in the Russian-Chinese doctrine "Sea interaction", held in the Baltic.
In the air part of the parade, Su-33K and MiG-29K ship fighters, coastal bombers were involved
aviation
Su-24M and Su-30SM, MiG-31BM interceptors, Tu-142M and Il-38 anti-submarine aircraft. Helicopters Ka-52K Katran, Ka-27, Ka-29, Mi-8 and Mi-24VP also flew over the city.
Russian sailors were congratulated by President Vladimir Putin, recalling that
история
the country is inextricably linked with the victories of its "brave, fearless Navy."
Today, the Navy solves not only its traditional tasks, but also adequately responds to new challenges, makes a significant contribution to the fight against terrorism and piracy,
said the president.
According to him, the seamen of the modern Navy will be proud of their children and grandchildren. "I am sure of this because brilliant training, efficiency, discipline are confirmed both in exercises and in combat operations," Putin said.
Thanks to everyone who is waiting for you at the family hearth, it warms you with love. Thank you for your willingness and ability to solve the most complex tasks, for your decent service and unfailing loyalty to our Motherland, our people,
he concluded.