Despite the fact that US Senator McCain is being treated at one of the US hospitals, his personal page is constantly updated with comments. At the same time, it is not known for certain whether McCain himself has something to do with Facebook posts, or whether his team has decided to act actively on his behalf. The main "
news
"From the senator's page - Russophobia.
This time
mccain page
spoke about the initiative of Alexander Zakharchenko to create Little Russia. At the same time, the initiative was called "Putin's" in the McCain camp.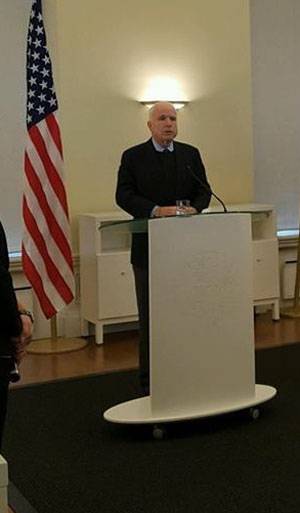 Text from the senator's facebook page (style saved):
Vladimir Putin's desire to restore the Russian empire took another step forward today when Russian-backed separatists in the Donetsk region declared an independent state and adopted the royal name "Little Russia" (it attracts attention that McCain Little Russia is translated into English - 'Little Russia.', - note "IN"). This is a violation of the sovereignty of Ukraine. The initiative belongs to Russia, Vladimir Putin, from whose leadership, funding, troops and
weapons
separatists are completely dependent.
This unlawful proclamation of the Russian puppet state in the east of Ukraine is also added to the Russian serial violations of the Minsk agreements. Thanks to its aggressive behavior, Russia has demonstrated that it does not strive for peace, which it would strive to achieve when the Minsk agreements were reached. Instead, Vladimir Putin hopes that the more Ukrainians will kill his forces and his proxies, the more Ukrainian territory they can capture. And the more Putin makes Ukraine devote scarce resources to war, and not improve the economy, the more it can destabilize the government in Kiev and prevent Ukraine from realizing its Euro-Atlantic future.
The United States and our European allies must honestly confront these realities. We have not been able to drastically change the nature of Russia's actions in Ukraine over the past three years.
If we are serious about stopping the bloodshed in the east of Ukraine and restoring the sovereignty and territorial integrity of Ukraine, we must be ready to think and act in a way that will change Russia's behavior. It is simply not enough, for example, to say that the United States and European sanctions imposed after the annexation of the Crimea will remain until Russia fulfills its obligations under the Minsk agreements. This approach was tried, and it failed. Acting together, the United States and our European allies must develop a policy and strategy of escalating diplomatic, economic, and military consequences that will cause Russia to suffer until it fulfills its obligations under the Minsk agreements. We must begin by submitting a strong sanctions bill against Russia, provide Ukraine with the defensive lethal weapons it needs for defense.