A ceremony of early transfer of two Mi-8AMTSH-VA helicopters for the Arctic group of troops to the military department was held at the Ulan-Ude Aviation Plant (part of the Russian Helicopters), reports
Interfax
message of the press service of the enterprise.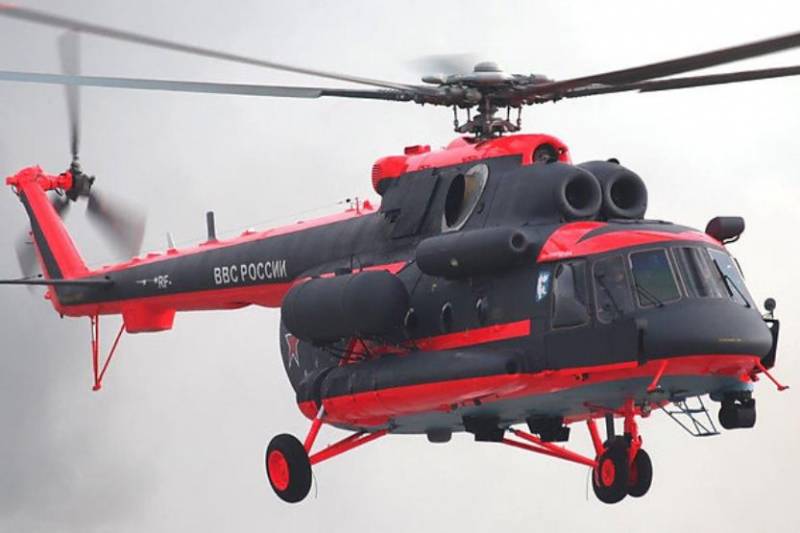 The technical solutions implemented on the Arctic helicopter Mi-8AMTSH-VA can be used not only in the interests of the Ministry of Defense of the Russian Federation, but also for the implementation of civil projects. Currently, a number of developments used in the "Arctic" helicopter are being introduced into civilian aircraft,
quoted by the press service of the general director of the holding Andrei Boginsky.
It is reported that the basic version of the Mi-8AMTSH-B new arctic helicopter is distinguished by a number of design solutions associated with its use in the zone of northern latitudes.
"Among the key improvements and improvements of the machine are improved thermal insulation, the latest flight-navigation and radio communication equipment (including an inertial navigation system operating in the absence of satellite signals), a unique patented engine and transmission heating system, thanks to which at temperatures from -40 ° With and below, it is possible to launch the helicopter engines quickly, as well as the presence of the left wider sliding door and the installation of the SLG-300 winch in the left doorway, "they told and.
According to the results of the test flight with additional fuel tanks, the Mi-8AMTSH-VA helicopter was able to fly more than 1,4 thousand km without refueling.
The updated on-board equipment of the machine ensures not only uninterrupted operation in the northern regions, but also improves the efficiency of
aviation
works.
"The composition of the onboard equipment of the Mi-8AMTSH-VA helicopter included the PKV-8 flight control system (digital autopilot), which allows to perform automatic flight along a given route, provides a significant improvement in controllability and flight stability, performs a number of new functions, including approach landing and hovering helicopter in automatic mode, "- said in a statement.
The press service noted that "PKV-8 significantly reduces the load on the crew and contributes to improving the safety of the helicopter, which is significantly increased by installing powerful engines, marine pilot rescue suits, life rafts, and air monitoring system warning the crew about rapprochement with other aircraft, and other systems ". Mi-8AMTSH-VA is also equipped with additional thermal insulation, food heating equipment for crew members and personnel.
The contract for the supply of vehicles to the military department was signed in February 2016.