Federal Directorate for the safe storage and destruction of chemical
weapons
spreads the message that stocks of chemical weapons in Russia have been destroyed by 98,9%. The remaining percentage with a small amount is disposed of at a special Kizner facility in the Republic of Udmurtia. In this case, it is added that Kizner remains the only platform for the destruction of the Russian / Soviet chemical weapons in the Russian Federation at the moment.
From the press service of the department:
At the beginning of the next month, levite and corps of bituminization of reaction masses will be put into operation at the Kizner facility, in which the destruction of all chemical weapons stockpiles in the Russian Federation will be fully completed by the end of 2017. Currently 98,9% destroyed.
It is reported that sarin reserves in the Russian Federation are completely destroyed. The final stage of the destruction of this chemical compound took place in the second decade of June. The main work at the moment is on the disposal of artillery ammunition with a poisonous substance such as vi-x (vi-ex).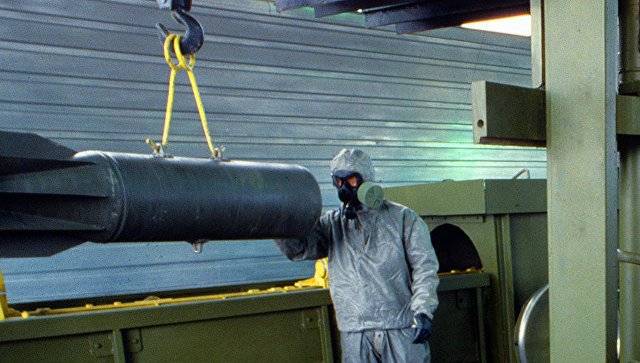 In total, the destruction originally belonged to 40 thousand tons of chemical weapons in Russia. The main part of these huge reserves was utilized at the above-mentioned Kizner site, as well as in the village of Leonidovka of the Penza Region, in Pochep, Bryansk Region, in the village of Maradykovsky, Kirov Region, in Schuchye, Kurgan Region, pos. Mountain Saratov region. Also, the disposal was carried out on another Udmurt special object - Kambarka.
The world remains 4 states that have either not signed, or signed, but ratified, the convention on the prohibition of chemical weapons: Egypt, North Korea, South Sudan and Israel.