The web discusses the video that was one of the first to publish the British edition of the Daily Mail. The video tells about how an American saved a girl in the Iraqi Mosul region. It is claimed that this is a 56-year-old soldier named David Eubank (David Eubank).
In the material
Daily Mail
It is reported that US troops involved in the operation to free Mosul noticed that there was a living child among the corpses. An American soldier, more like a representative of PMCs, under the guise of two "military comrades," jumping out from behind
tank
, rushed to the girl and heroically, on camera, saved the child.
One could admire the feat of 56-year-old Eubank, if not for a few oddities. First, people who are called "American Special Forces" cover Eubank with Kalashnikov assault rifles. It turns out that either American special forces veiled American rifle
weapon
in Iraqi conditions, completely untenable, or it is not at all the special forces of the US Army.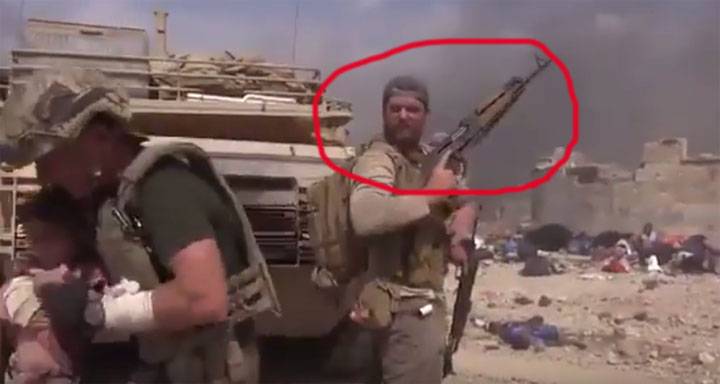 Secondly, Eubank, to "save the child," jumps out from behind the tank, risking himself that he does not fit in with the American military mentality at all. It does not cover the tank armor, while he runs, judging by the logic of the story of the "feat" in the direction from which the enemy fire is heavy. And returns alive and unharmed.
Thirdly, it can be stated for the American feat that there is always a video camera on hand. Otherwise, such a spectacular photo for the Western press would not have turned out.
It seems that this is the answer of Russia, which was spoken about in the West just a few days ago. Recall that in the US, the Russian media was accused of "propaganda" of the heroism of Russian officer Alexander Prokhorenko, who caused fire in Syria. The American servicemen highly appreciated the feat of an officer of the RF Armed Forces, which for the States seemed to be "informational interference in the affairs of the Pentagon." It was stated that the Western media should counteract this. The video, published on the Daily Mail, is very similar to this kind of "opposition".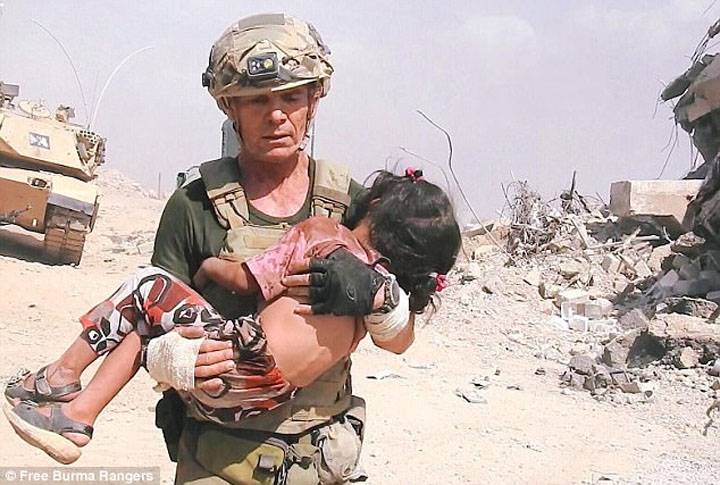 In the photo in the Western media with the slips
Free burma rangers
(FBR). This structure is easily located on the Web. Free Burma Rangers (FBR) calls itself a "humanitarian organization" that carries out "humanitarian operations" in Myanmar, Iraq and Sudan.
Of
ARTICLES
"About mission objectives":
To bring help, hope and love to people of all denominations and ethnic groups in conflict zones, highlight the actions of the oppressors, stand with oppressed and supportive leaders and organizations committed to freedom, justice and service.
The organization is famous for its rescue camera operations. In many ways similar to the well-known "White Helmets."