According to information
RIA News
, Colonel Vadim Astafyev, head of the press service of the Southern Military District, reported on the destruction of a conditional enemy near 30 by aircraft of the Southern Military District on unfamiliar training grounds during an eight-hour flight from southern Russia to Buryatia.
Moving
aviation
to Buryatia has been carried out since March 1, where it is planned to hold joint exercises of the mixed aviation division and the air defense division by the end of April. At the first stage of the exercises, it is planned to create a complex and dynamic environment. In these conditions, the commanders of the formations will have to make decisions about redeployment and carry out combat training missions. The equipment arrives in Buryatia from airfields in the Rostov Region and the Krasnodar Territory, overcoming about 6 thousand km.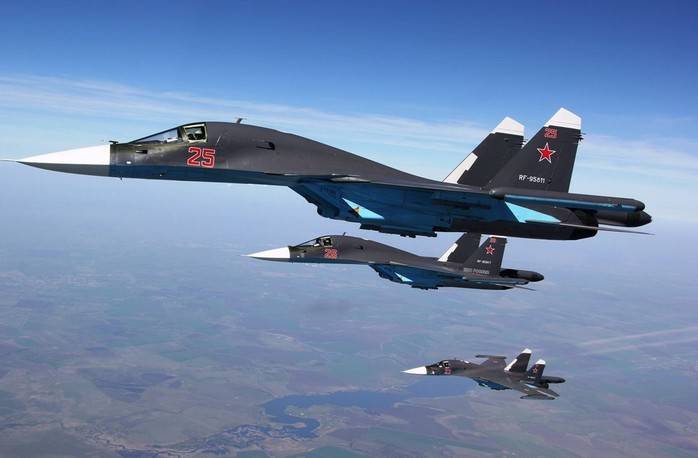 The flight train of the Southern Military District accomplished the flight over a long range and carried out the bombing. The air units of the fighter, bomber and transport aircraft 4 of the Air Force and Air Defense armies of the Southern Military District carried out redeployment to unfamiliar operational airfields in the Trans-Baikal Territory and the Republic of Buryatia. In relocating to unfamiliar operational airfields, about 30 aircraft were involved, in particular:
Su-30M2, Su-30CM
,
Su-27MX3
и
Su-34
.
- said V. Astafyev.
According to him, for the first time the relocation was carried out within one day by an eight-hour flight. Su-34 bombers, accompanied by Su-27СМ3 and Su-30СМ fighters, made non-stop flights, including at night, over a distance of over 6 thousand km with air refueling.
During the redeployment, the pilots performed bombing on an unfamiliar air test site located on the Kola Peninsula, with patrol escort, clearing the airspace and destroying the conditional air enemy with fighter aircraft. During the bombing, 30 aerial bombs were spent. Monitoring the results of the use of aviation weapons was carried out by a unit of unmanned aerial aircraft.
.
The final stage of the exercises is supposed to be held at the Telemba training ground in the Republic of Buryatia. 15 is expected to conduct various tactical episodes with the use of more than 250 weapons and military equipment, including C-300PM, Pantsir-S systems, ground support equipment for aviation, radar stations, communications technology and engineering troops, electronic warfare devices.