Vladimir Yezhikov, First Deputy Director of the Economic Department of the Government of the City of Sevastopol, told about the construction of a multi-service service center for the maintenance and repair of air defense weapons and special equipment. We are talking about the service center, which will become one of the component parts of the VKO "Almaz-Antey" concern. Newspaper
"News"
announces that the new facility will appear on the basis of the Granit GTRP, which will be used to carry out the entire range of necessary maintenance work on anti-aircraft missile systems.
It is reported that in the center being created there will be ongoing maintenance of air defense missile defense systems that are located on the Crimean peninsula. Today it is C-300 and C-400.
According to Vladimir Ezhikov, the creation of a new center will create in the Crimea and Sevastopol an additional about three hundred jobs for highly qualified specialists.
At the initial stage, work will be carried out by on-site engineering and technical teams, while Sevastopol universities will train specialized specialists, who will eventually be involved, as they say, "on a permanent basis".
Information of such a plan appeared simultaneously with reports of the command of the Armed Forces of Ukraine on readiness to conduct regular rocket firing at the borders of the Russian Federation in the Crimean sector. In addition, the President of Ukraine Poroshenko on his Facebook page made a record in which he stated about the tests of "new missile weapons":
There is a good
news
. Ukroboronprom developed a new missile weapon for the Air Forces of Ukraine. 57 mm caliber missiles are designed to engage ground targets and are designed to equip attack helicopters and airplanes. During the successful tests, the crew of the helicopter, which, by the way, is equipped with new engines, as well as the Adros optical-electronic suppression station, hit the target. Only half a second is needed to launch a full block of 20 rockets. Good job guys.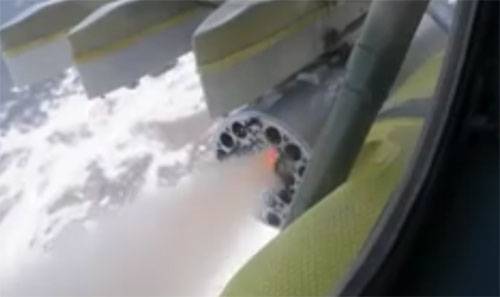 Poroshenko did not explain how many attack helicopters and aircraft Ukraine has. As he did not explain, what is the novelty of these "tested"
aviation
ammunition ...