Today in the Russian Federation celebrates one of the holidays that make up the calendar of the RF Armed Forces. It's about the date that was set by order of the Minister of Defense of Russia in 2003 year. This is the Day of the military topographer. As the starting point of the holiday of military topographers, this date was chosen due to the fact that February 8 (new style) 1812 of the year in the Russian Empire on the basis of the decree of Alexander I established the Provision for military topographical affairs.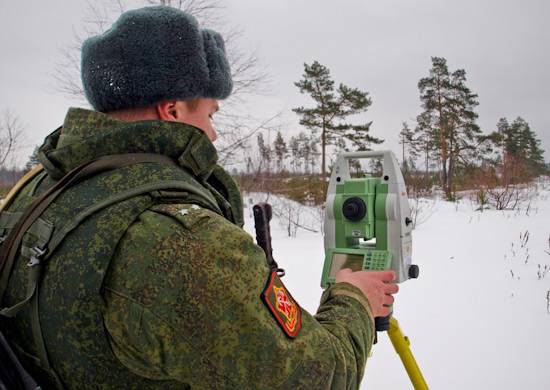 The topographic service in the modern Armed Forces is responsible for topographic and geodetic support, which is a special component of the military technical service.
The spectrum of the main tasks solved by military topographers is very wide. This is not only the creation, updating and accumulation of topographic maps, the formation of geodesic catalogs and their subsequent delivery to the headquarters and the troops themselves, but also the production of digital, electronic maps and other means with terrain data.
Also military topographers solve the following tasks:
Preparation of initial geodetic and gravimetric bases for ensuring missile launches, flights aviationfiring artillery and combat use of radio systems of various purposes;
production of special maps, photographic images of the area and other means of topographic and geodetic information and the provision of troops to them;
edition of graphic combat documents;
performance of geodetic and cartographic works of federal purpose.
The most important task of the Topographic Service of the Armed Forces of the Russian Federation is the production of types of geospatial information, which is essential for modern troops. Electronic maps and plans of settlements are created using automation equipment, including complexes of automated workplaces ARM-EK. Astronomical, geodetic and gravimetric data are obtained through the use of PNGK-1 mobile navigation and geodetic systems, as well as Geonika-T systems and other hardware-software complexes.
"Military Review" congratulates military topographers on their professional holiday!