The Ministry of Defense of the Russian Federation publishes information about the next rocket-bombing of the Russian Federation's armed forces to the positions of terrorists of the so-called Islamic State (prohibited in the Russian Federation) in the Deir ez-Zor area. Long-range Tu-22М3 bombers were also involved in the operation.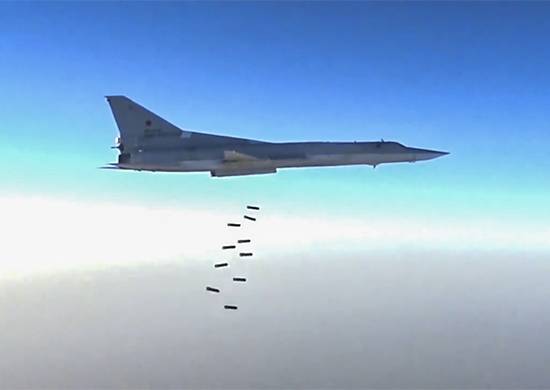 This is their second use over Deir ez-Zor in the last few days.
The message of the main military department states that six long-range Tu-22М3 Russian AF bombers took off from a Russian airbase and, flying over the territories of Iran and Iraq, struck igilovtsev positions.
From the report:
The means of objective control confirmed the defeat of all designated targets.
Recall that a few days ago, ISIS terrorists launched an offensive on the positions of Syrian troops in the Deir ez-Zor area. Militants managed to cut off a military airfield from communication with the city. The Syrian army, with air support, is attempting to push the terrorists away from the city and unblock the airfield.
It is reported that from the metropolitan province of Syria in the areas of clashes under Deir ez-Zor are deployed units of the Republican Guard. In addition, the 104 Brigade of the SAR Airborne Forces is connected to the Deir ez-Zor release operation. Several hundred Syrian soldiers were first deployed from Damascus to al-Kamyshly, from where they marched to the rear of the militants for an attack.
Russian military
aviation
provides air support and operations in the Palmyra (Tadmora) area.