The Government of the Russian Federation intends to support the aircraft building industry through Rosneftegaz's excess dividends and proceeds from the sale of Rosneft's share owned by Rosneftegaz, said
aviation
portal ATO.RU.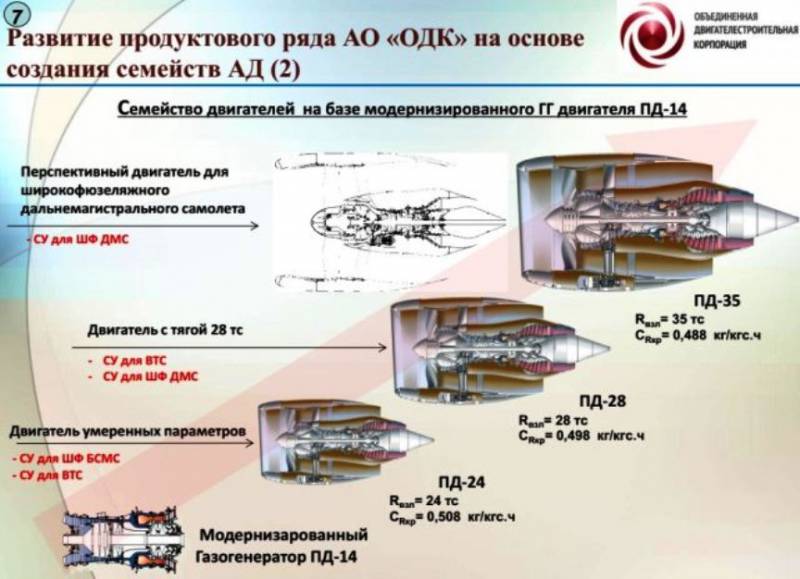 Presentation of United Engine Corporation Corporation on the development of the product line based on the creation of a family of engines based on PD-14
.
As noted in the relevant government decrees published this week, "the proceeds will be transferred to the United Engine Corporation (UEC) and the United Aircraft Building Corporation (UAC) for certain projects."
According to the resource, "UEC will receive 783 million rubles. on the development and organization of serial production of the TV7-117 turboprop engine for the regional IL-114 aircraft, as well as 1,5 billion rubles. on the development of a promising PD-35 ultra-large-power propulsion system designed for long-haul civil aircraft. "
In turn, "UAC can count on 1,517 billion rubles. for the development and organization of serial production of IL-114 and 2,4 billion rubles. for the modernization of the wide-body aircraft IL-96 ", the article says.
Contributions to the authorized capital of companies will have to make the Ministry of Industry and Trade.
It also follows from the documents that additional capitalization may be less, since "it will be carried out" in the event and within the receipt of federal budget revenues from dividends of Rosneftegaz JSC (owned by the Russian Federation), in excess of the amount of 36,039 billion rubles, as well as over-revenues related to the sale of Rosneft's shares owned by Rosneftegaz ".
Earlier that the government intends to allocate additional funds to support the projects IL-114 and IL-96-400 was reported by Deputy Prime Minister Dmitry Rogozin.