The Russian Defense Ministry has begun to deploy in the Arctic Circuit regiment of fighters Su-30SM, reported
News
.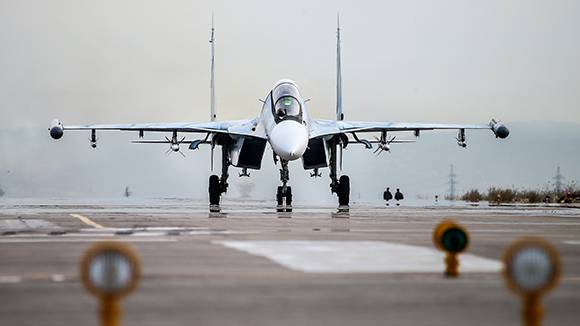 According to the newspaper, the regiment will be part of the Marine
aviation
Northern
fleet
(MA SF) and will be based at the airport Severomorsk-3.
"The first two Su-30CMs will arrive at the Severomorsk-3 airfield in the near future. The newly arrived vehicles will be part of the third squadron of the 279-th separate naval fighter aviation regiment (Oiap) MA SF. In the future, as new fighters arrive, it is planned to form a separate aviation regiment out of them, "the newspaper writes citing a source.
In addition to air-to-air missiles, the fighters will be armed with X-31 supersonic anti-ship missiles. The article notes that the weight of the X-31 is more than 700 kg, the range of its use is more than 200 km, the speed is 2,5 thousand km / h.
Military historian Dmitry Boltenkov:
"After the 2008 Guards Fighter Regiment, which was based in Kilp-Yavre of the Murmansk Region, was disbanded in 9, military bases, ships and submarines of the Northern Fleet were covered only by air defense units of the Russian Air Force. But this is not enough. The nearest MiG-31 interceptor fighter squadron covering the Northern Fleet headquarters and its main base in Severomorsk is in Monchegorsk. As the teachings showed, the use of deck fighters Su-33 for patrolling the Barents Sea is ineffective. And the MiG-31 VKS of Russia has its own equally important tasks. Moreover, in the conditions of increased confrontation between Russia and NATO in the upper latitudes, the Northern Fleet clearly lacks strike aircraft in the Barents Sea. "